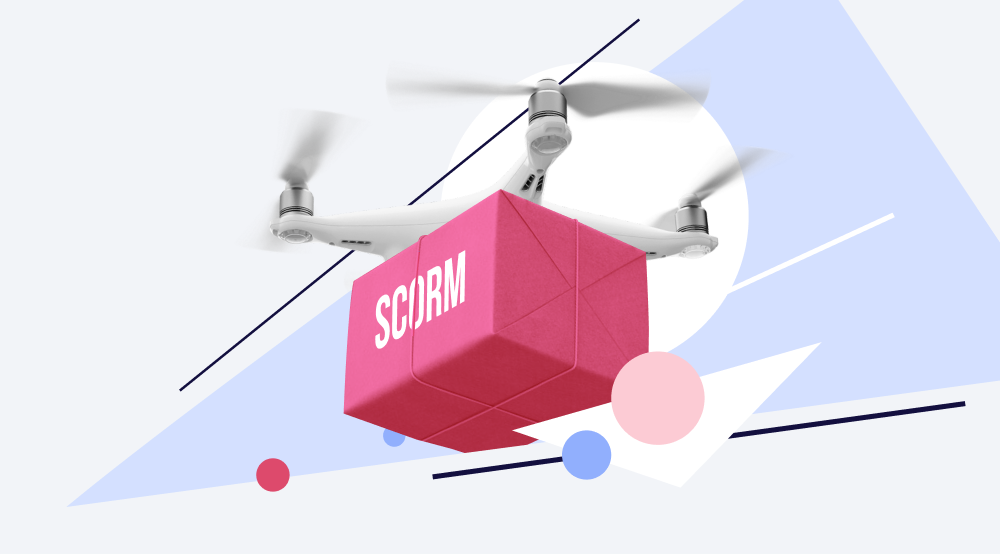 In 2020, SCORM celebrated the 20th anniversary of its first release, SCORM 1.0. Over those 20 years, many software products related to creating SCORM content were released.
In this article, we'll cover various categories of SCORM software solutions and provide a quick explanation of each one. The first in this list will be authoring tools, the most common 'beast' in the eLearning world.
What Are SCORM Authoring Tools?
SCORM authoring tools are software that allow you to create SCORM-compliant eLearning from scratch. There might just be one specific type of content that an authoring tool specializes in, or it might be able to create a wide range of different activities, like quizzes, dialogue simulations, and video training.
There are currently two versions of SCORM that are in use: 1.2, and 2004. Each one has its own technical features. For example, SCORM 2004 provides more detailed information in terms of reporting. If you're going to create courses for a particular LMS, you need to know which SCORM version your platform supports. As for authoring tools, most of them allow you to publish content both to SCORM 1.2 and 2004.
Types of SCORM Authoring Tools
SCORM compliant authoring tools may vary depending on the content they allow you to create, features, ease of use, and many other things. But generally, all SCORM creation tools can be divided into two groups:
Desktop authoring tools. These are software installed on a computer. They don't require the internet to work. Also, desktop tools usually have more advanced authoring features and more customization options.
Web-based authoring tools. These services open in a browser and are accessible anytime and anywhere. Such SCORM builders are typically not as powerful as desktop ones, but are a perfect choice for remote teams.
Desktop SCORM Authoring Tools
1. iSpring Suite Max
Type: Desktop + web-based
SCORM support: 1.2 / 2004
Platform: Windows
Price: $970/year per author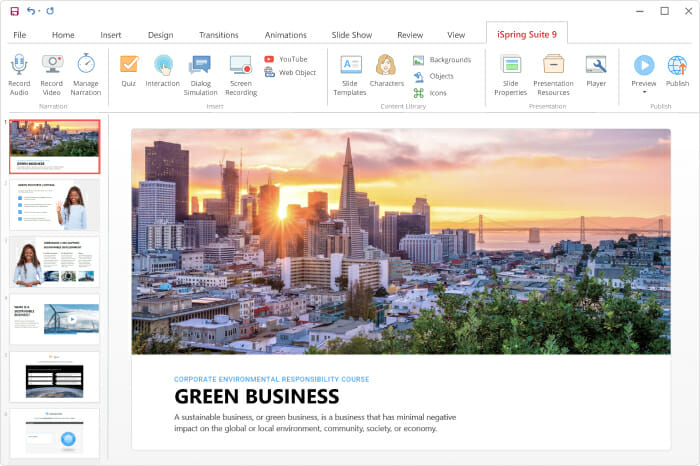 iSpring Suite Max is a SCORM authoring toolkit that includes a PowerPoint add-in and a number of standalone instruments, each specialized in creating a certain type of learning content. For example, QuizMaker is used to create quizzes, Cam Pro lets you record and edit screencasts, Flip can convert PDF/DOC files into learning modules, and so on. There are 7 different tools in all, including Content Library – a collection of predesigned templates and images you can use in your courses to enjoy a faster process than coming up with designs on your own.
You can start using iSpring Suite with no previous experience in eLearning authoring. Grab a PowerPoint presentation, add some interactive content using the dedicated tools included in Suite, and publish a mobile-ready SCORM course that can be uploaded straight to your LMS.
Spring Suite Max also features an online authoring tool for creating simple courses and tests right in a browser.
Try iSpring Suite right now by signing up for a 30-day free trial →
2. Articulate 360
Type: Desktop + web-based
SCORM support: 1.2 / 2004
Platform: Windows
Price: $1,299/year per author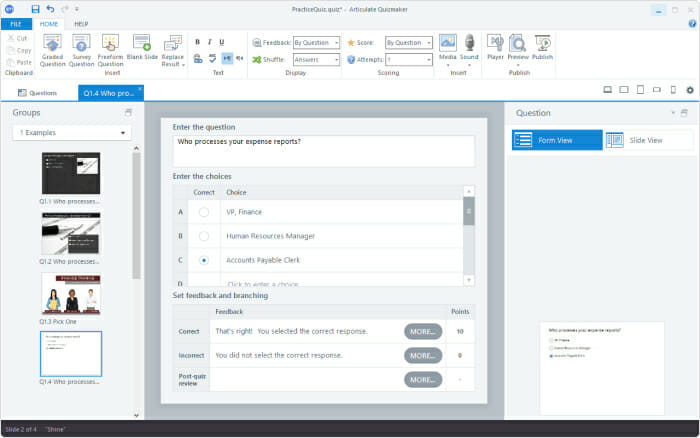 Articulate 360 is another all-round SCORM-compliant software combining a quiz maker, a screen recorder, and many other things. Like iSpring Suite, it is built around creating interactive slides and combining them into an eLearning module. Being a standalone application, it offers more in terms of programming different learning scenarios but has a steeper learning curve.
Like iSpring Suite, it features a content library with slide templates and character images. Plus, it includes an online authoring solution called "Rise" that can be used to create simple SCORM content in your browser.
3. Adobe Captivate
Type: Desktop
SCORM support: 1.2 / 2004
Platform: Windows / Mac
Price: $400/year per author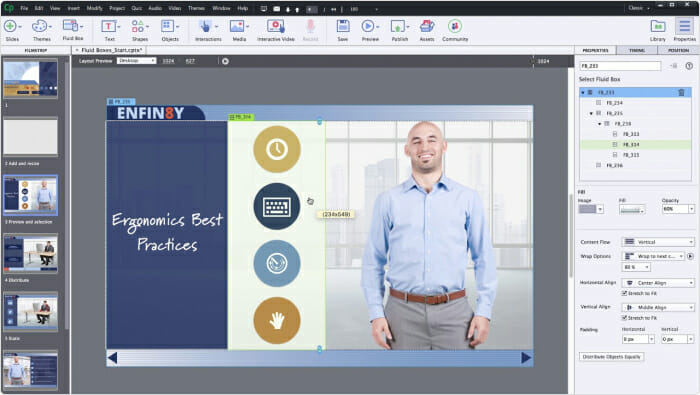 Adobe Captivate is a SCORM software that comes as a standalone slide-based content maker with a quiz builder, an interactive video creator, and a content library. Basically, it offers functionality comparable to that of Articulate and iSpring, but with some more advanced features. For example, it has a separate instrument for making SCORM software simulations and a tool that allows you to build VR learning products by adding interactions on top of 360° images or videos. But, with great power comes a great learning curve, so using this one requires training like no other.
4. TechSmith Camtasia
Type: Desktop
SCORM support: 1.2 / 2004
Platform: Windows / Mac
Price: $250 for a lifetime license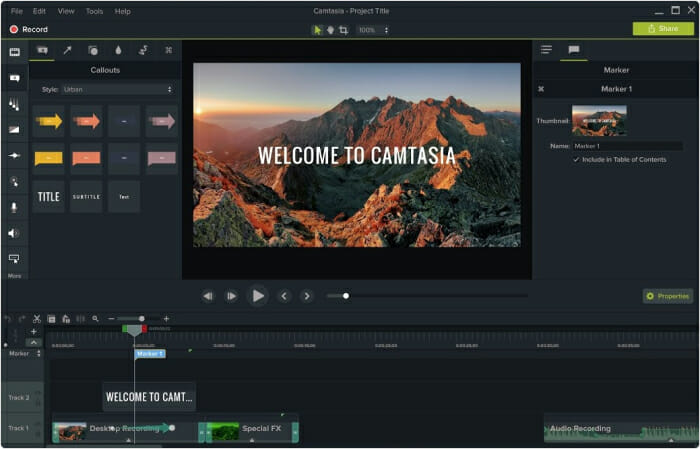 Camtasia is an authoring tool specialized in screen recording and video editing. It lets one record a screencast and/or webcam, and then add visual instructions to various parts of the recorded video. It can also freeze the video at a certain moment so you can add a quiz question on top of it. You can use Camtasia to create interactive videos as SCORM courses and upload them to your LMS.
5. iSpring Free
Type: Desktop
SCORM support: 1.2 / 2004
Platform: Windows
Price: Free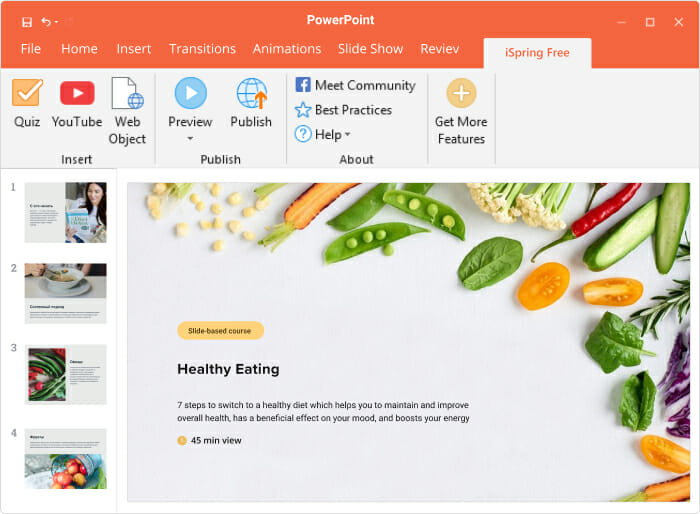 iSpring Free is a free SCORM authoring tool. It's a no cost version of iSpring's PowerPoint add-in that also features a much simpler version of QuizMaker with just three question types (multiple response / multiple-choice / fill-in-the blank). This tool is easy to start with if you have no experience in SCORM content authoring.
Web-Based SCORM Authoring Tools
6. Lectora Online
Type: Web-based
SCORM support: 1.2 / 2004
Price: $500/year per author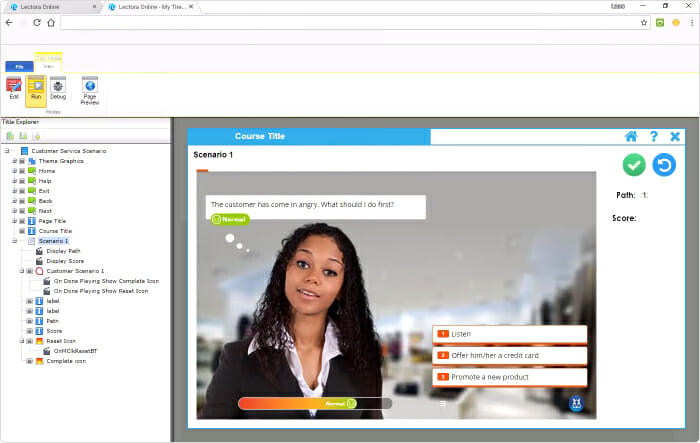 Lectora Online is an online SCORM course builder that has instruments for creating interactive slides with quizzes. It has a library of stock images for rapid course creation and integrates with Branchtrack, a dialogue simulation maker. Published SCORM content is WCAG compliant.
7. Knowbly
Type: Web-based
SCORM support: 1.2 / 2004
Price: $495/year per author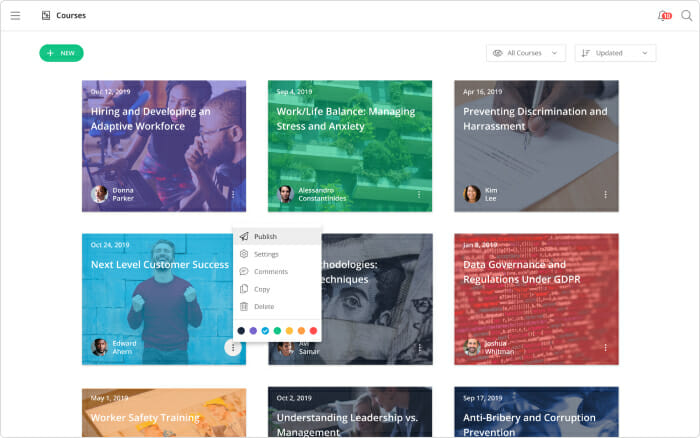 Knowbly is the new kid on the block, launched just a year ago. It has a standard set of tools that can help you build SCORM courses with text, media, interactions, and quizzes. The product has built-in analytics that should help you understand how your learners go through the modules.
8. Coassemble
Type: Web-based
SCORM support: 1.2 / 2004
Price: from $490/year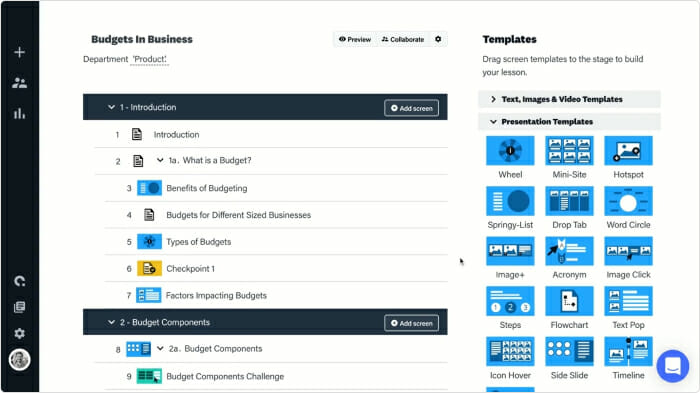 Coassemble is a cloud-based SCORM content creator with LMS capabilities. It provides 10 ready-made templates for creating courses that can be filled with content pieces like images, videos, quizzes, and texts. The finished content can be assigned to learners via the Coassemble LMS.
9. Gomo Learning
Type: Web-based
SCORM support: 1.2 / 2004
Price: $495/year per author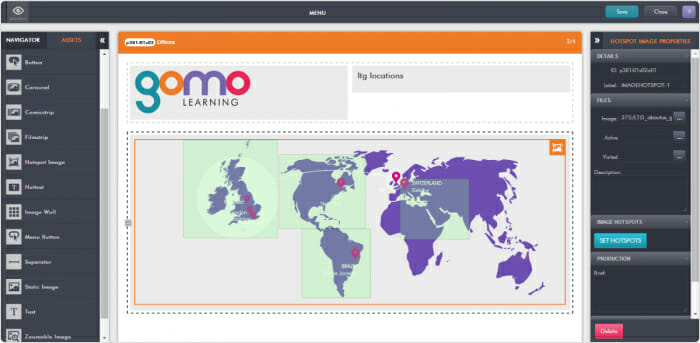 Gomo is cloud-based SCORM creation software with content management capabilities. It's being advertised as a good solution if you aim at mobile learning over anything else. Editing and redesigning built-in templates can be tricky, but it's a good fit for bite-size learning.
10. Easygenerator
Type: Web-based
SCORM support: 1.2 / 2004
Price: from $990/year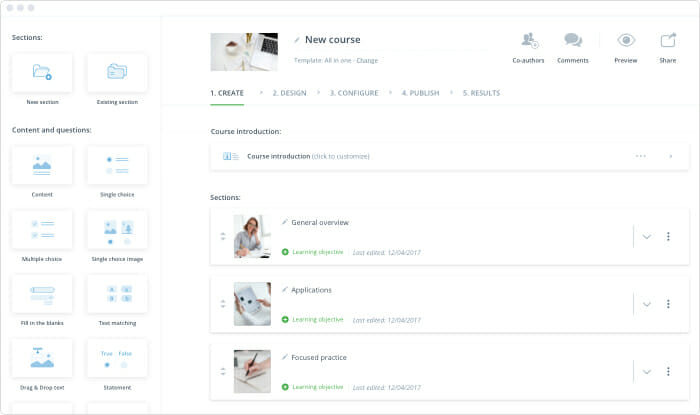 Easygenerator is a web-based SCORM creation tool that allows you to assemble courses with its drag-and-drop features. You can choose premade templates and customize them to make generic but great looking courses in a fraction of the time it would otherwise take. The tool also allows you to track students' progress and send certificates of completion to your learners.
11. Adapt Learning
Type: Self-hosted web-based
SCORM support: 1.2 / 2004
Price: Free (open source)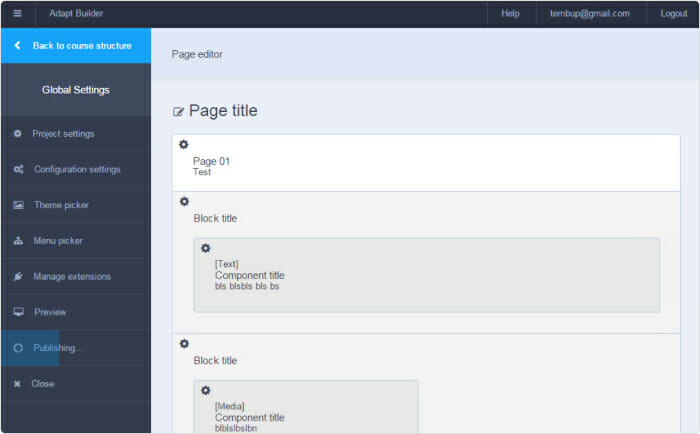 Adapt is an open-source SCORM authoring tool that has been around for almost 5 years. It can build slides, quizzes, embed media, export SCORM – all the standard stuff. The main difference is that you need to install it on your own server, which might be a hassle for those that have never done that.
Other SCORM Tools
In this section, we've compiled other kinds of SCORM software you might need. Some of them can be used for instant conversion of legacy learning materials into SCORM courses, while others are designed specifically for testing SCORM packages.
SCORM Converters
A SCORM converter is a tool that can transform an existing document (PDF, PPT, DOC) and output SCORM content for uploading to an LMS.
12. iSpring Converter Pro
Type: Desktop
SCORM support: 1.2 / 2004
Platform: Windows
Price: $270/year per author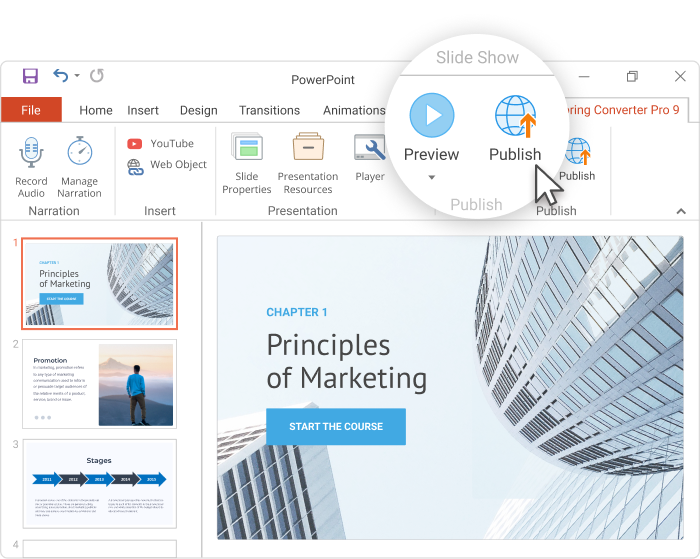 iSpring Converter Pro is a less advanced version of iSpring Suite that can transform PowerPoint decks to HTML5 and SCORM. It can't create quizzes or dialog simulations, but does allow converting PowerPoint presentations to SCORM modules with voice narration.
13. iSpring Flip
Type: Desktop
SCORM support: 1.2 / 2004
Platform: Windows
Price: $227/year per author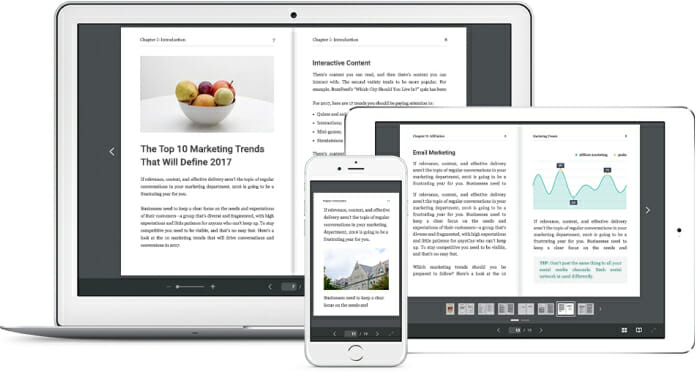 iSpring Flip is a simple standalone tool that can turn a PDF, DOC, or PPT file into a SCORM course in a couple of clicks. The output is mobile-ready and can be uploaded to any LMS as an interactive e-book that tracks learners' progress.
SCORM Wrappers and Packagers
These are tools that don't have authoring capabilities and can't do conversions. Coders use SCORM wrappers to make existing HTML content compatible with SCORM. They do this by attaching SCORM API commands to certain events happening with the content when it's being viewed in a browser.
14. Pipwerks SCORM wrapper
Type: Desktop
SCORM support: 1.2 / 2004
Platform: Windows / Mac
Price: Free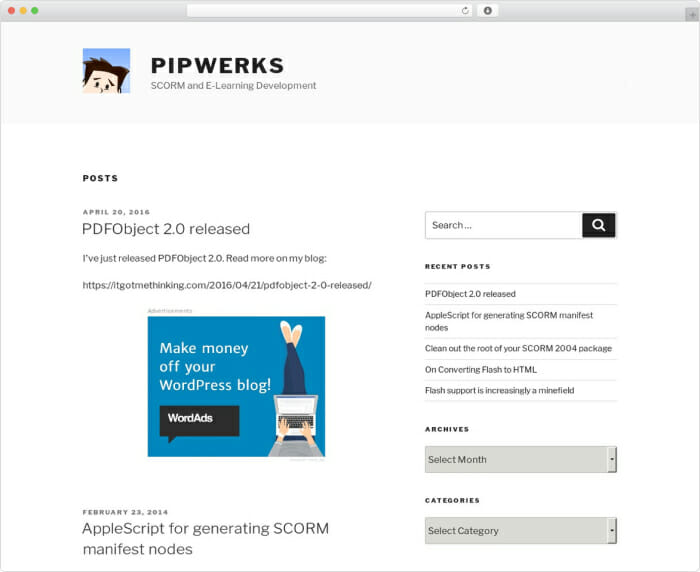 The Pipwerks wrapper is a Javascript application that can be handy if you want to make a piece of HTML content SCORM compatible. But it will only be useful if you have coding experience.
SCORM Testing Tools
Sometimes you need to test a SCORM file for errors and check if it's sending proper statuses before uploading it to your production LMS. With SCORM testers, you can do just that.
15. SCORM Cloud
Type: Cloud-based
SCORM support: 1.2 / 2004
Platform: Windows / Mac
Price: Starting at $75/mo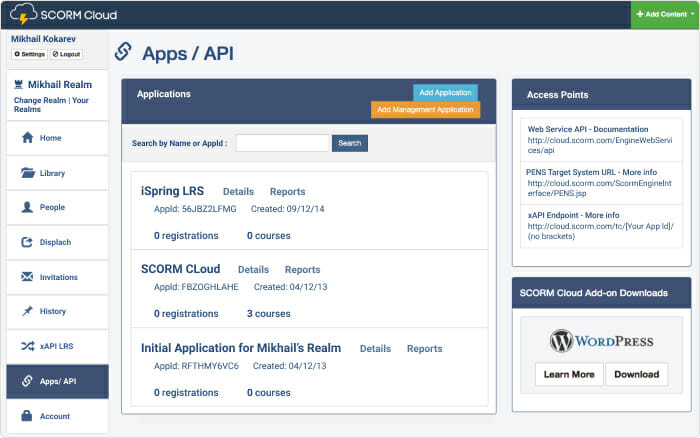 SCORM Cloud is developed by Rustici Software, the global leader in eLearning standards. It's the go-to product for testing SCORM content. Detailed debug logs will help you troubleshoot any reporting issues that your content might have.
It can also be used as an alternative to an LMS – the tool can host learning modules and then dispatch them, to make distribution easier.
To Sum Up
We've looked at four different types of SCORM software and covered the most significant entries in each category. If you have any suggestions for any other SCORM-compliant tools, please feel free to let us know in the comment section.
Useful Resources