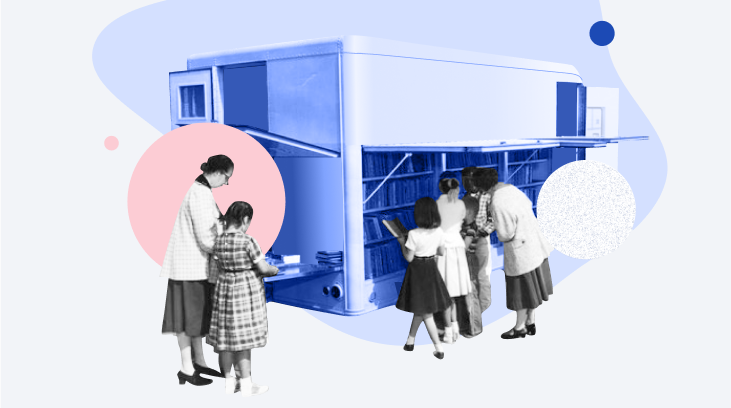 Want to showcase your company as a great place to work? Ditch the over-the-top amenities like game rooms and nap pods for something employees really want.
A Deloitte survey of young professionals found that "opportunity to learn" was one of the most desirable benefits an employer can offer. To make training effective, it's crucial to provide learners with high-quality content.
In this article, we'll show you how to create a training module that will keep your employees motivated and engaged.
What Is a Training Module?
A training module is a component of an online course that focuses on a specific objective and is designed to teach on a specific topic. Each module is like a chapter of a book, leading to the next. When seen as a whole, training modules make up an entire layer of knowledge and tell a complete story.
Meanwhile, each module may include a number of lessons or learning objects that are even smaller pieces of educational content.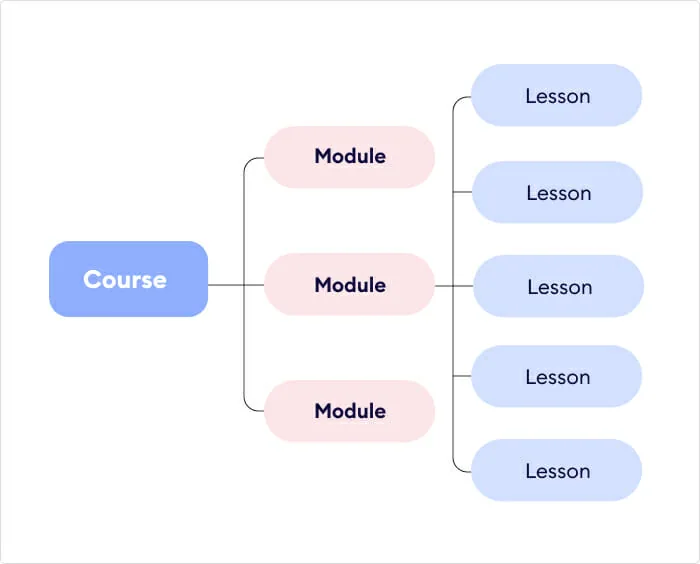 Types of Training Modules
Offering a variety of content types allows you to create a richer and more robust training experience for all of your learners. Let's look at the different types of eLearning training modules in more detail to see which is the best choice for your particular needs.
1. Informational e-course
An informational course is a training module that typically consists of slides with text, pictures, and "Next" buttons. This provides learners with information on a specific topic.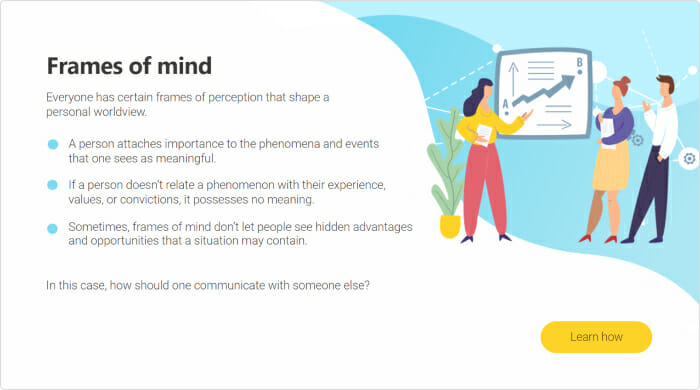 Best suited for
Delivering standardized knowledge or skills to a wide audience of learners.
Job-essential skills and knowledge.
Time-sensitive learning, such as onboarding and compliance or safety training.
Providing information about a new product or policy update.
2. Interactive assessment
Interactive assessments are a type of online quiz that incorporates a variety of question types, custom branching, and scenarios.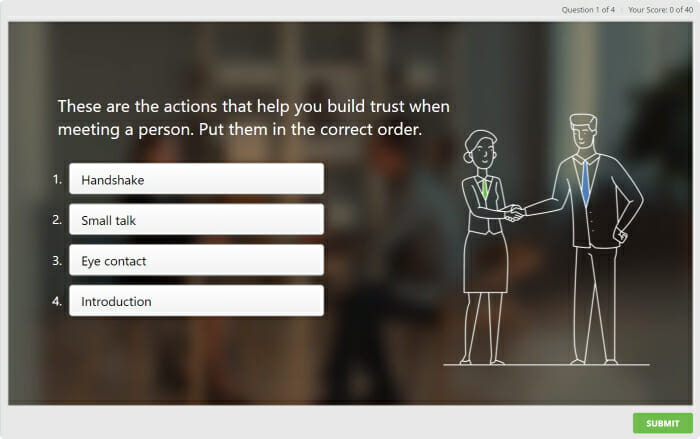 Best suited for
Measuring your learners' level of knowledge relevant to their work and/or ability to apply knowledge in a realistic way.
Creating tests with built-in coaching to help learners stay on track.
Certification or credentialing tasks.
Proof of completion of learning activities.
Identifying learners who may need additional support.
Identifying high performers who could be candidates for advancement.
3. FAQ interaction
An FAQ interaction is a training module that gives your learners one-click access to reference information and commonly asked questions.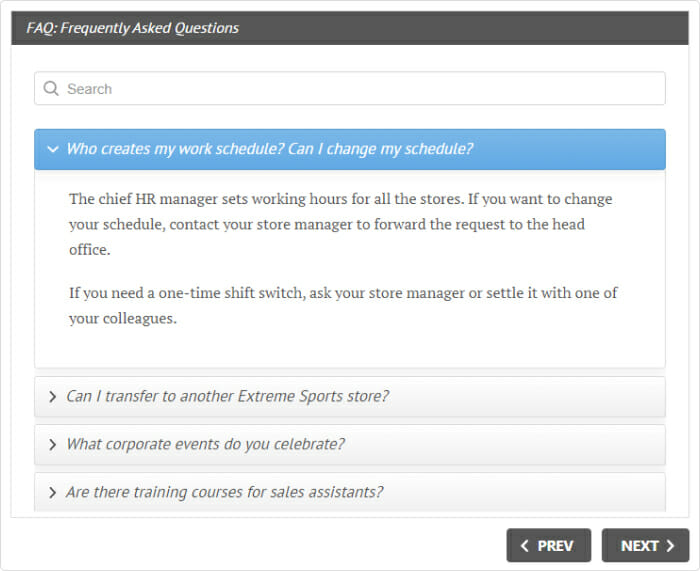 Best suited for
Creating a standard format to organize and present basic information.
Glossaries, definitions, or other basic knowledge-level facts.
Reviewing subject matter details in a question-and-answer format.
4. Video lecture and screencast
A video lecture is an instructional video that has been recorded and saved for viewing at a later date.
Best suited for
Providing a large audience of learners with access to a particular lesson or speech.
Standardizing a learning experience for a particular topic or event.
A screencast is a video recording which captures the actions that take place on a screen.
Best suited for
Tutorials to demonstrate basic business tasks, such as how to access programs, how to navigate through an online system, or how to fill out a form.
5. Dialogue simulation
Dialogue simulations help your learners build communication skills by applying their knowledge in realistic conversations with colleagues and customers.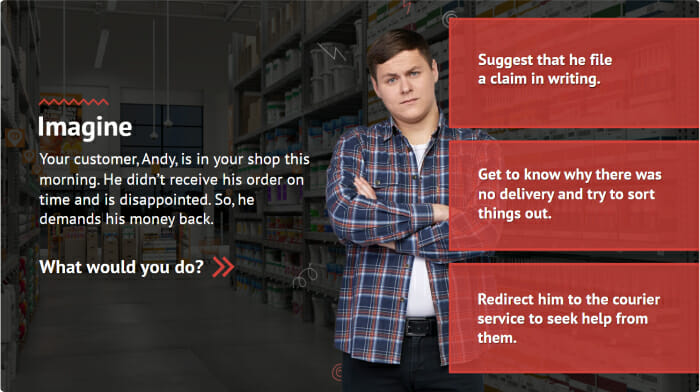 Best suited for
Learners with direct access to customers, such as salespeople, customer care representatives, telephone agents, and receptionists.
Training leaders, HR personnel, or others who need to deliver sensitive information to subordinates or team members.
Educating coaches and instructors who have to communicate information systematically to individuals or audiences.
6. Microlearning module
A microlearning module is a bite-size lesson that provides a focused answer to a single problem or question. Such a training module can usually be completed in about five minutes at the point of need.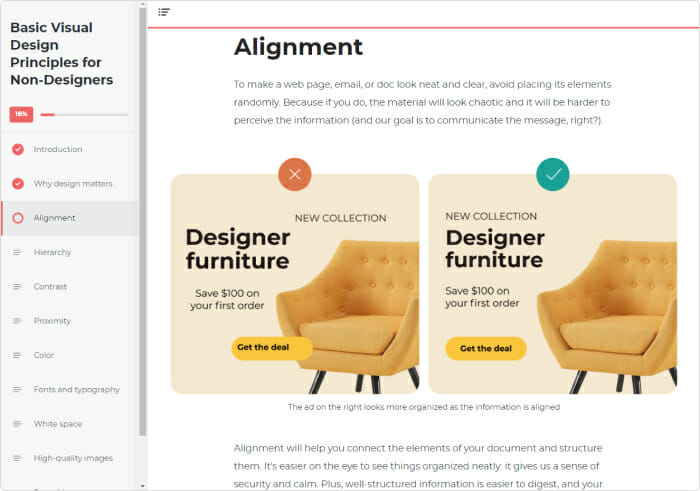 Best suited for
Learning during an idle moment and immediately putting the new knowledge into practice
Taking courses on the go on a smartphone or tablet
Delivering information about a new product or policy update super quick
Providing the basics of a topic prior to a face-to-face training session
7. Digital job aid
A digital job aid is a document or presentation that is accessible virtually and can be played, downloaded, saved, or printed by the learner.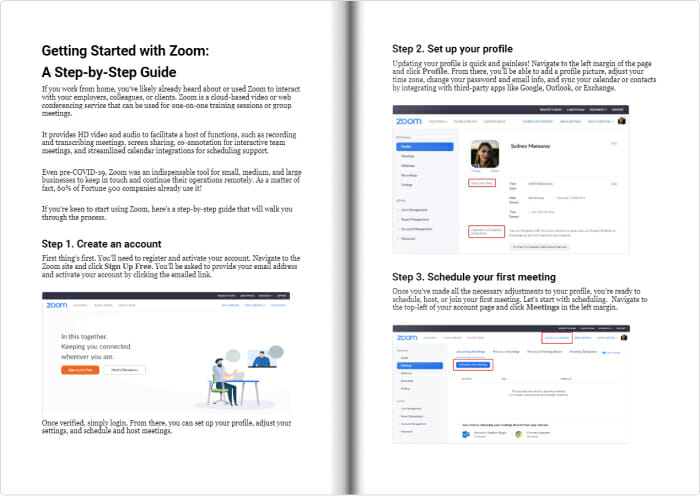 Best suited for
Any learner who wishes to retain a document in a digital format on their computer, mobile device, or on an internal drive.
Manuals, guides, instructions, how-to articles, processes, or procedures that people may need to access in order to do their job.
To see these training module types in action, click 🠗 to go directly to the examples section.
How to Develop the Best Training Module, Step by Step
Let's look at how you can build a training module one step at a time. Keep in mind that the initial steps are more about the prep work, rather than the process of creating actual training modules. However, they are the key to moving in the right direction. So, don't skip them.
Watch this video guide on building a training module or read the article.
Step 1: Define the Problem
The first rule of training success is: Solve the right business problem!
High-quality training starts with communication. To solve a business problem, you need to understand the issue and how it affects on-the-job performance. One of the first steps in creating a training module is to ask detailed and probing open-ended questions to find out:
What is the nature of the problem to be solved?
What knowledge or skill is needed to bridge this gap?
What is the level of knowledge or performance that your people actually do have?
What is the expected level of knowledge or performance your people should have on this topic?
The answers you get will help you define the business problem clearly and move on to setting up learning objectives for your training course and modules.
Step 2: Write a SMART Objective
A training goal or objective confirms the reason for learning and communicates the focus of the training module. The goal should specify the skills, knowledge, or benefits the learner will gain as a result of completing this module. For the best results, think SMART and create a goal that is:
Specific – the learner knows what they will learn or be able to do after finishing the training module;
Measurable – learners will use this knowledge consistently for each report;
Achievable – the learner will be able to perform the tasks listed in the training module;
Relevant – the training module will focus on job essential knowledge and skills;
Timely – the learner will be able to complete the training module in a timely manner.
A SMART goal will motivate the learner by showing them "what's in it for me" in that training module.
Step 3: Create the Right Type of Training Module
Once you've defined the problem and set up your objective, you're ready to create a training module!
The secret to building great training is to match the right kind of module to the learning task at hand. The chart below aligns different types of training modules to learning needs.
Types of eLearning content for specific learning needs
Learning/Organizational Skill or Need
Recommended eLearning Solutions

Job knowledge
Compliance and safety
Onboarding

E-course
Interactive assessment

Processes or procedures
"How to" resources

FAQ interaction
Screencast
E-Book
Hands-on interaction

Product knowledge training

Software and systems training

Screencasts
Hands-on interaction
Video tutorial

Sales and customer service training
Soft skills
Leadership development

Video lecture
Dialogue simulation

Proof of competency or skills achievement
Certification
We've provided a detailed description of various types of training modules at the beginning of this article. Now, we'll show examples of learning modules and explain how you can create them easily with the iSpring Suite authoring toolkit. This is a robust, yet easy-to-use, software that allows you to create versatile eLearning content: courses, quizzes, video tutorials, and more.
Example of an informational e-course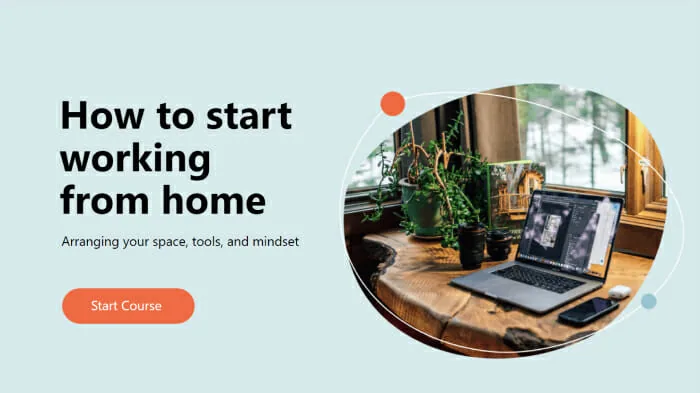 How to create such a training module
You can use iSpring Suite to:
Create an eLearning course from scratch, or
Turn any PowerPoint presentation into a fully functional eLearning module.
iSpring keeps all the PowerPoint animations, their combinations, direction, timing, and triggers intact.
You can enhance your course with tests, videos, interactions, and conversation simulations and consider it as one training module.
Example of an interactive assessment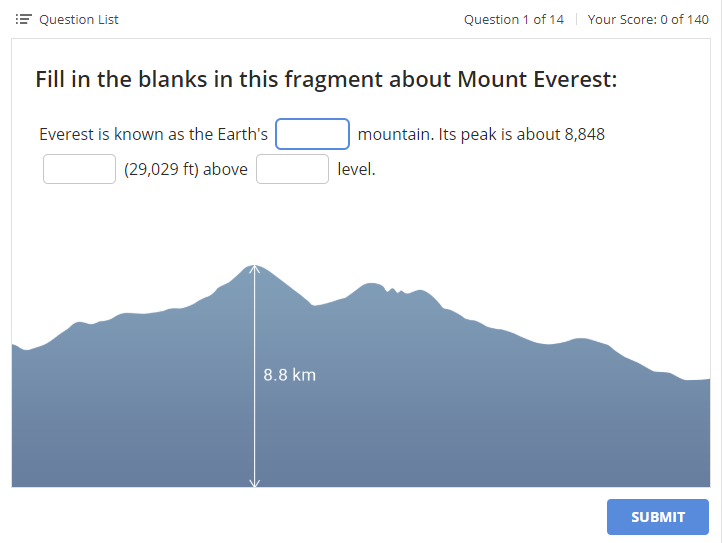 How to create such a training module
With iSpring Suite, you can:
Build robust graded assessments with a variety of question types, including multiple choice, fill in the blank, drag and drop, matching, and sequencing.
Add video and rich media to your questions.
Create question-level or answer-level feedback and branching to provide a customized experience for each learner.
Example of an FAQ interaction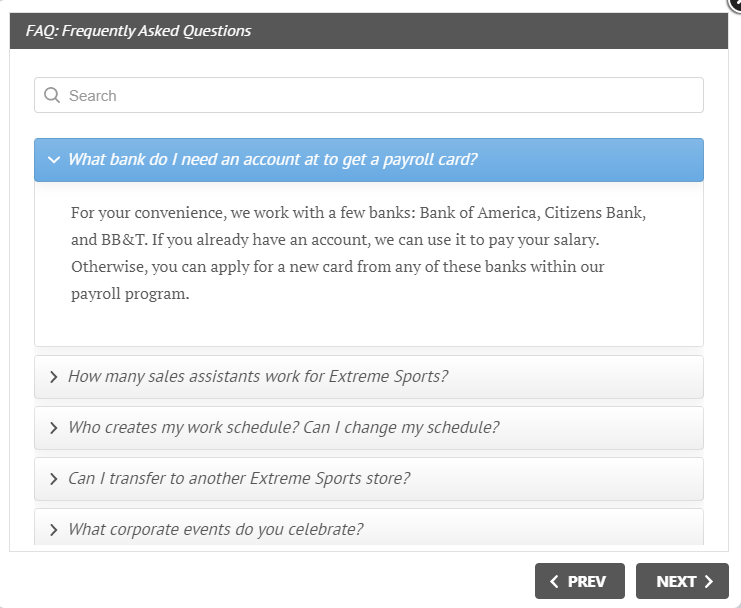 How to create such a training module
iSpring Suite includes an FAQ template that can be customized to fit your needs. You can present an FAQ interaction as a series of questions and answers or a list of topics and details. Add keywords to your topics to enhance search functionality within the training module.
In addition to an FAQ template, iSpring Suite offers 11 more ready-made templates for creating interactions, including timelines, references, glossaries, and catalogs.
Example of a video lecture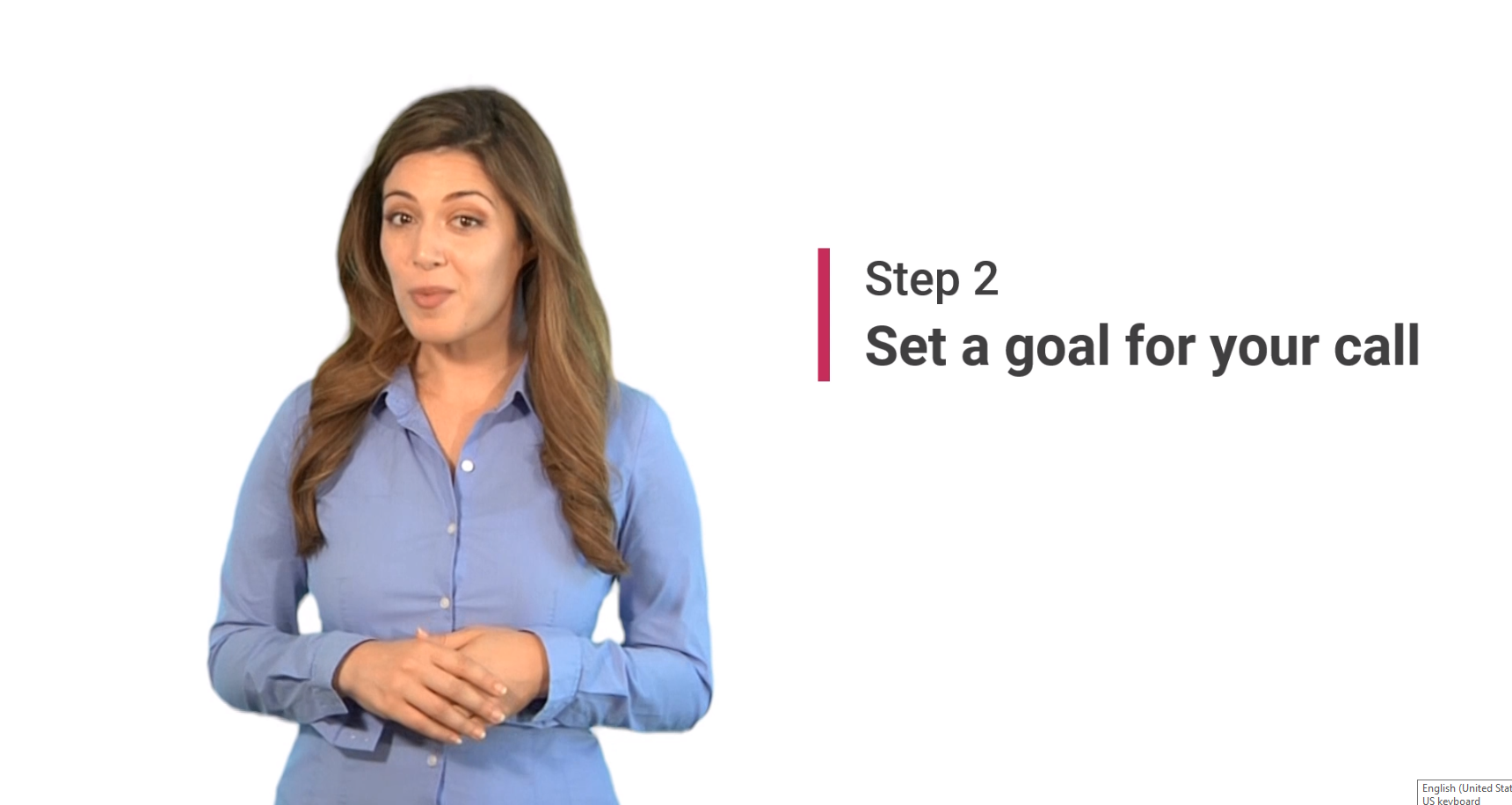 How to create such a training module
iSpring video studio allows you to capture a screen, record a webcam video, or record and show both streams together. You can enhance your video lecture and a screencast with images, infographics, and captions. The studio also makes it easy to mix videos and support them with music or a voice-over.
Example of a dialogue simulation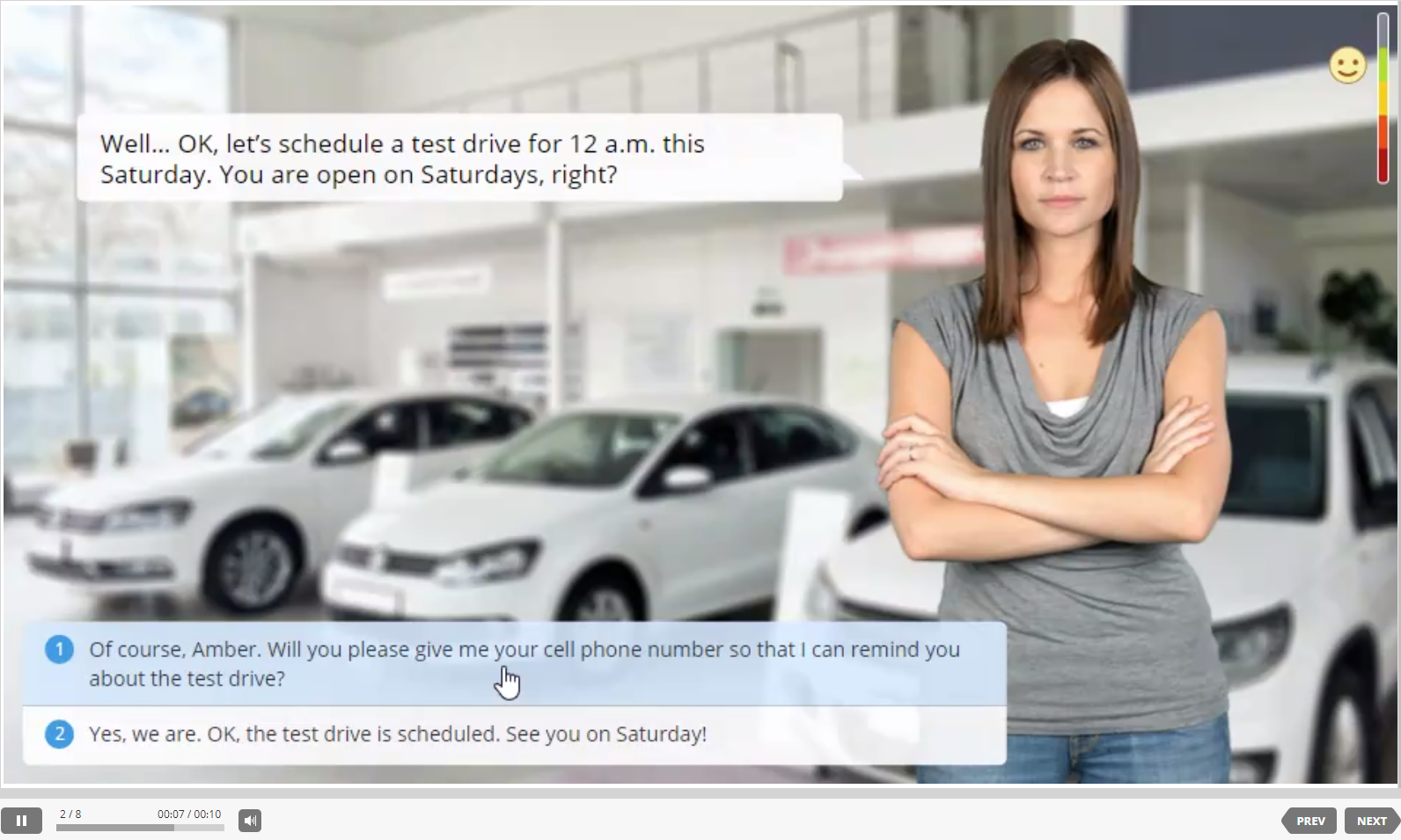 How to create such a training module
With iSpring Suite, you can:
Create dialogue scenes with branching scenarios.
Add backgrounds and characters from the iSpring Content Library to develop realistic dialogue simulations.
Add voice-overs to character speech to fully simulate a real-life dialogue.
Evaluate simulation results.
Example of a microlearning module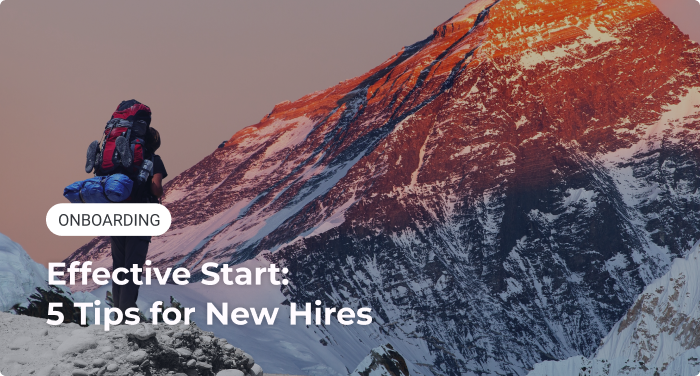 How to create such a training module
With iSpring Suite, you can:
Create adaptive microcourses online almost the same way you write a post on social media
Add knowledge checks by using three types of questions to your training module: multiple-choice, multiple response, and short answer
Cowork on training modules online with your team
Example of a digital job aid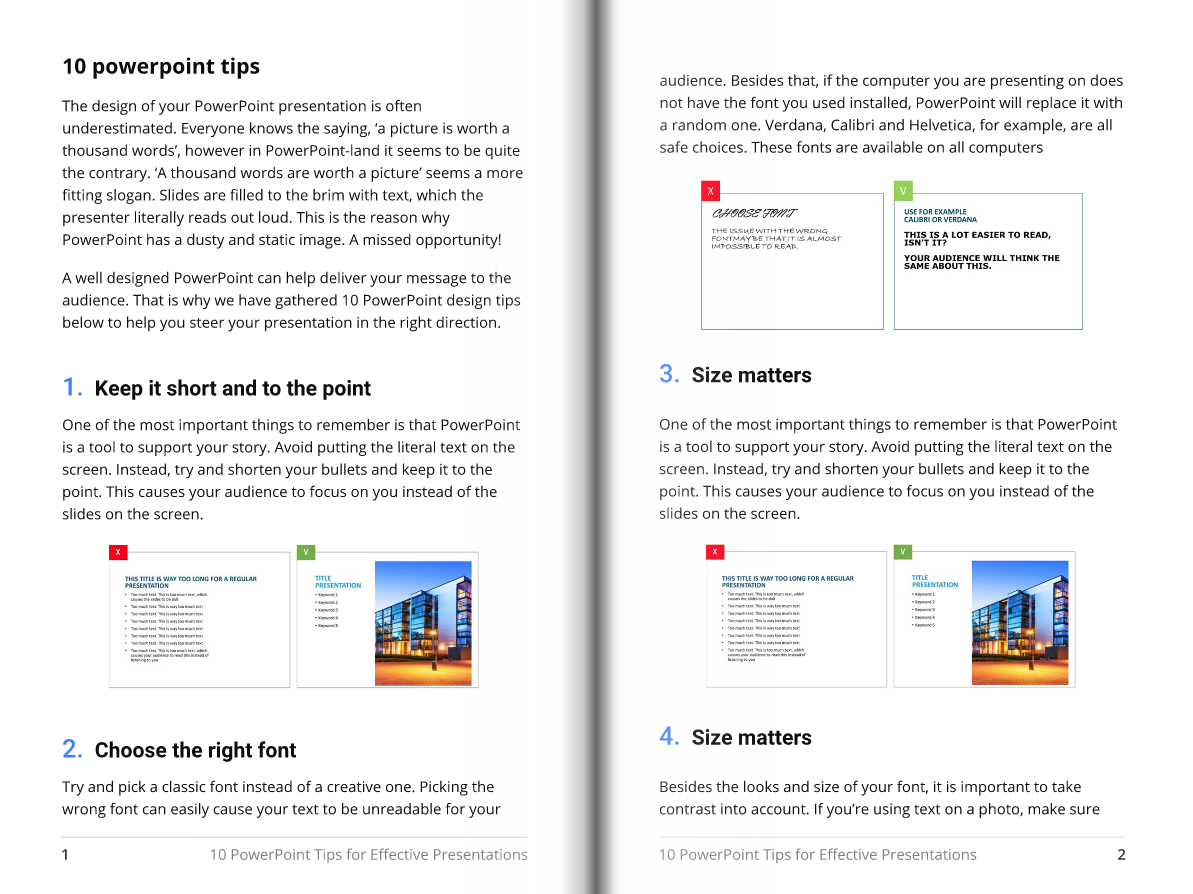 How to create such a training module
With iSpring Suite, you can quickly turn any Word documents, PPT presentations, or PDF files into e-books with a page flip effect. Such e-books provide an enjoyable reading experience on iPads and other mobile devices.
Step 4: Feedback and Revision
After a bit of work on your part, the first version of your training module is ready! Now, it's time to forward your first draft to your Subject Matter Experts (SMEs) and Stakeholders for feedback and approval. Don't be surprised if your partners offer a LOT of feedback on your first efforts! Even if you've been diligent about following every piece of advice from your SMEs and Stakeholders, you may find that they still have more information to share with you after viewing the first draft of your training module.
To avoid falling into an endless feedback loop, most L&D teams will follow a three-step design protocol, known as alpha/beta/gold:
The first draft of a training module is known as the alpha draft. An experienced instructional designer should be able to create an alpha draft that is about 75-80% correct. This is typically where you will get the most feedback from your SMEs.
The revised second version of a training module is known as the beta draft. If you've received quality feedback from your SMEs during the first round, your beta version of the training module should be about 95-98% accurate. So, you should have far fewer revisions at this point.
The final draft is called the gold version. Unless your SMEs have missed vital information in the previous rounds of review, the gold version should be 99-100% correct. SME and Stakeholder review of the gold draft should happen quickly. When your partners sign off on the gold version of your training module, you have content that is ready for learners.
Step 5: Run a Pilot with a Test Audience
As a best practice, you should run a pilot of any new training before putting it into circulation across your organization. Pilot testing training provides an additional layer of review and allows you to see whether or not learners are able to attain the expected performance objectives.
Select a test audience that will consist of a small group of employees within your company. For best results, your test audience should not have a high level of expertise on your training topic. You need to choose individuals who don't have a high level of expertise on your topic and can experience the training without pre-existing notions of what it should be like.
Gather feedback from your test audience both while and after they take a training module. Find out what they thought worked best about the training, and what could be improved. If the test audience is not able to reach the expected performance goals after completing the training module, review the assessment results to see what gaps may exist. Work with your SMEs and stakeholders to come up with ways to fill in gaps and improve the overall training experience and your training module per se.
Step 6: Create a Final Version, Upload, and Launch
After you've tied up the loose ends of your pilot, you're ready to create the "final final" version of your training module, upload it to the LMS and launch the new training. You may want to work with your business partners, change management, or project management to coordinate a formal roll-out of the new training.
You may also want to provide detailed reporting data about learning consumption and results 30, 60, and 90 days after your program launches. Tracking data for on-the-job performance metrics is a great way to show the training's impact on actual work performance.
Takeaways
The first rule of training success is: Solve the right business problem!
SMART training objectives are specific, measurable, attainable, relevant, and time-based.
The secret to building great training is to match the right kind of module to the learning task. Avoid the tendency to make all of your online training modules look, sound, or feel the same.
Use an authoring tool such as iSpring Suite to create a learning experience that includes a variety of robust, interesting, and engaging eLearning content types.
Feedback and revision are important parts of the process of creating a training module.
Set up a pilot program to "test drive" new training to a select audience before making it available organization-wide.
Training is never a one-and-done experience. Organizations are in a constant state of improvement, so the shelf life of even the best eLearning can be anywhere from a few months to just over a year. Review all of your training modules at least twice a year for accuracy; expect that you will need to either update or completely revise your training modules on an annual basis.
Still don't have iSpring Suite for creating engaging training modules? Download the course authoring software for free right now.