Instructional Design
September 20, 2021
50+ Best Instructional Design Software Tools and Resources in 2022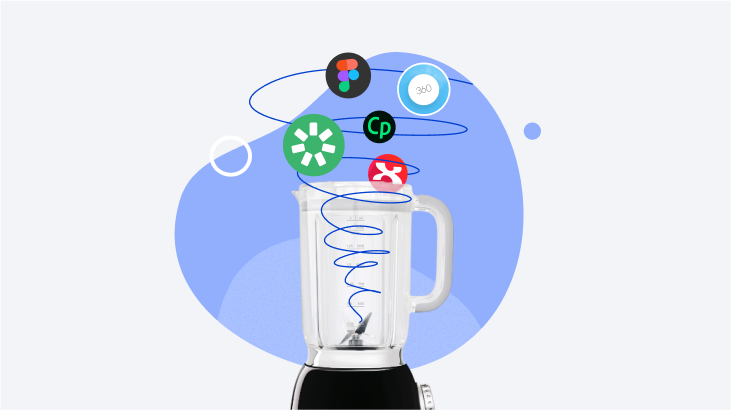 Whether you're a novice or experienced instructional designer (ID), you need eLearning tools that help you streamline your course building. We've made an extensive list of the best instructional design software and resources and, for simplicity, divided it into categories, from authoring tools to audio-video software and photo sharing platforms. Check them out or just bookmark this article for future reference.
What Is Instructional Design Software?
Instructional design software is any software used by instructional designers to create eLearning content. This content may come in various formats, from texts and presentations to podcasts, videos, and many others. Let's say you need to edit photos for your ecourse, and you choose Adobe Lightroom to do this. Although Adobe Lightroom is used by specialists from different areas, for us it'll be an instructional design software tool.
Best Instructional Design Software Tools
Whether you need to track your ideas while brainstorming, create a presentation, or design an entire course, etc. – here you'll find the best instructional design tools for any need.
eLearning authoring tools
Course development software is the primary tool for an instructional designer. With it, you can build engaging interactive courses from scratch or turn existing training materials into eLearning courses. We also put authoring tools first because, among the other software solutions covered in this article, they are the ones designed especially for eLearning.
1. iSpring Suite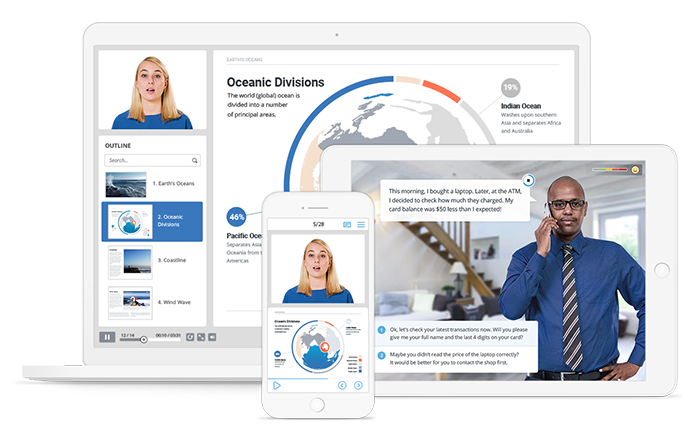 iSpring Suite is a fully stocked toolkit designed to build mobile-ready e-courses in PowerPoint quickly. It allows you to create slides, quizzes, video presentations, screencasts, and dialogue simulations without any special training. With iSpring, you can also convert your existing Word, PDF, and PPT manuals and textbooks into interactive e-books in a couple of clicks.
Cost: $970/year (1-year subscription to iSpring Suite, Content Library, iSpring Space, Tech Support, and upgrades included). Free 30-day trial.
2. iSpring Page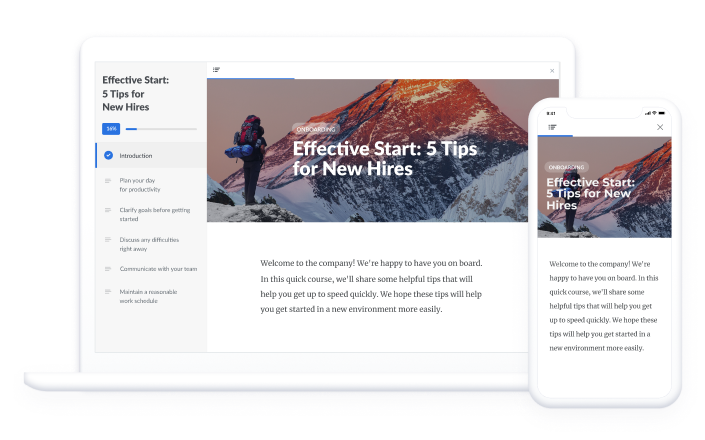 iSpring Page is a cloud-based authoring tool for creating microlearning courses. It allows you to build content right in your browser, thus simplifying and speeding up the development process. With iSpring Page, you can build microcourses with video, knowledge checks, and custom branding in a matter of minutes. The tool supports teamwork, so multiple authors can collaborate on the same content online to get the project done in less time.
Cost: $97/year. Free 14-day trial.
3. Articulate 360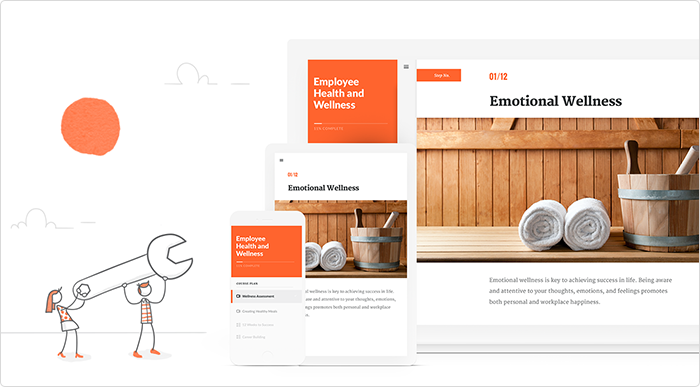 Articulate 360 is a bundle of nine tools, three of which are made especially for course authoring: Studio 360, Storyline 360, and Rise. It enables you to create any type of learning content, from simple longreads to complex interactive courses.
Cost: from $999/year. Free 60-day trial.
4. Adobe Captivate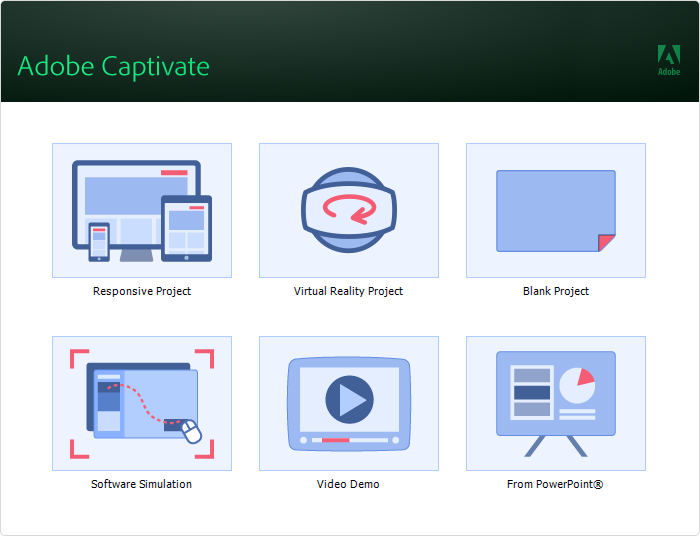 Adobe Captivate is instructional design software that is perfectly suited for building complex interactive courses. It has great capabilities for making interactive videos, Virtual Reality (VR) projects, and software simulations, but comes with a steep learning curve.
Cost: $1,299 (lifetime license), or a subscription for $33.99/month (billed annually). Free 30-day trial.
5. DomiKnow ONE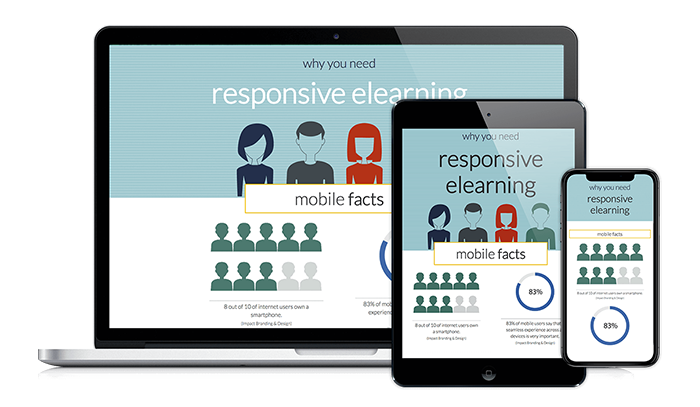 DomiKnow ONE combines traditional e-course authoring with robust responsive authoring, screen capture, and software simulation into one integrated system. This instructional design software has a Microsoft look, so some options will be intuitive for novice designers, but reviews highlight the limited support offered.
Cost: from $997/year. Free 14-day trial.
6. Lectora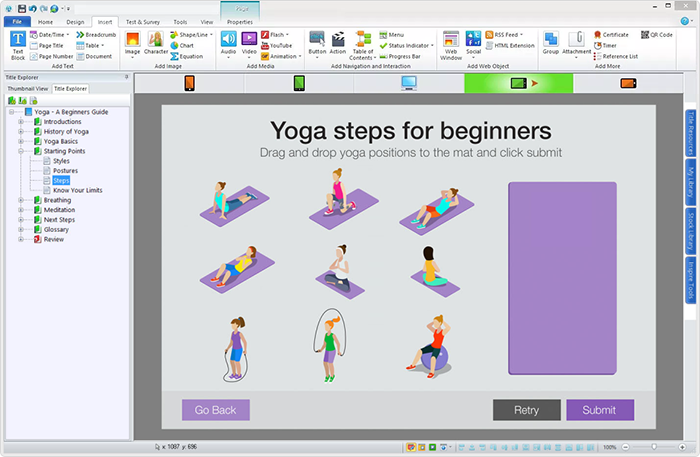 Lectora is an old hand in the eLearning field, and their desktop authoring tool has been around for a long time. Lectora will help you build beautiful courses with media and assessments, but you need to be an experienced instructional designer to work with this tool. Both desktop and web applications are available.
Cost: from $899/year.
Mind mapping tools
While planning an eLearning project, you need to collect your thoughts and brainstorm. Mind mapping is an effective way to take notes of your thoughts and represent them visually. Here we'll offer you a few mind mapping tools to help you decide which is the right one for you.
7. XMind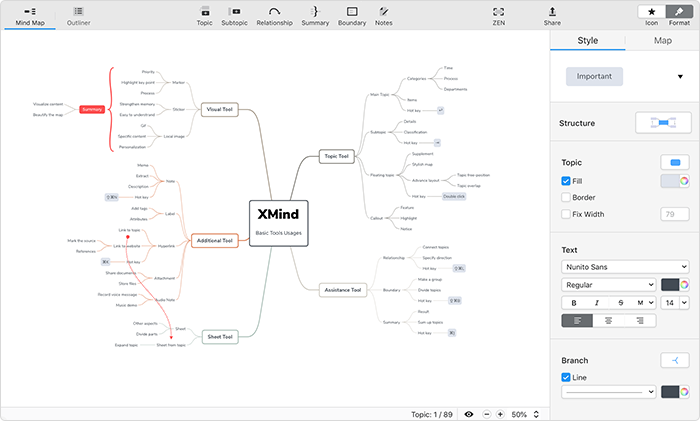 XMind is a full-featured mind mapping and brainstorming tool that'll help you collect your ideas and craft them in a logical structure. You can export your mind map into different formats, including PDF, TXT, HTML, JPEG, and more. In addition to the mind map structure, XMind also offers tree, logic and fishbone charts.
Cost: $39.99/6 months or $59.99/year.
8. MindMeister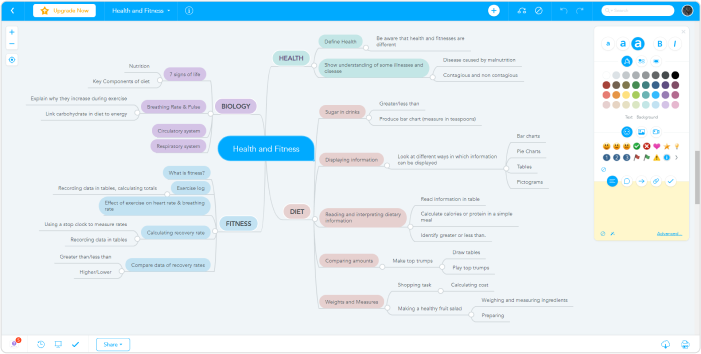 MindMeister is another popular software used by instructional designers. It's a market-leading online mind mapping tool that helps you brainstorm great ideas, take notes, and plan projects together with your team – even when you are thousands of miles apart. You can also use this tool to manage meetings, and store, share, and manage corporate knowledge.
Cost: Free Basic plan. Individual accounts start at $4.99/month.
Alternative services: Miro, iMindMap, SpiderScribe
Presentation tools
Presentations and slideshows are some of the most common ways of delivering corporate training. With a strong understanding of instructional design and advanced skills working with presentation software, you can create beautiful and engaging learning materials which will help your learners achieve real results. You probably already know these tools, but we might as well mention them, anyway.
9. Microsoft PowerPoint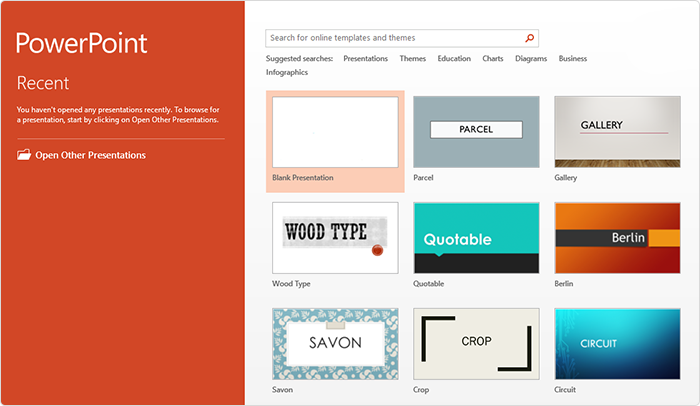 PowerPoint is the most popular and arguably the best free instructional design software that allows you to create and show slides. You can combine text, graphics, and multimedia content to build professional presentations. You can make presentations even more interactive by creating triggers and animation effects, and setting up navigation by using hyperlinks.
Cost: Free for personal use.
10. Prezi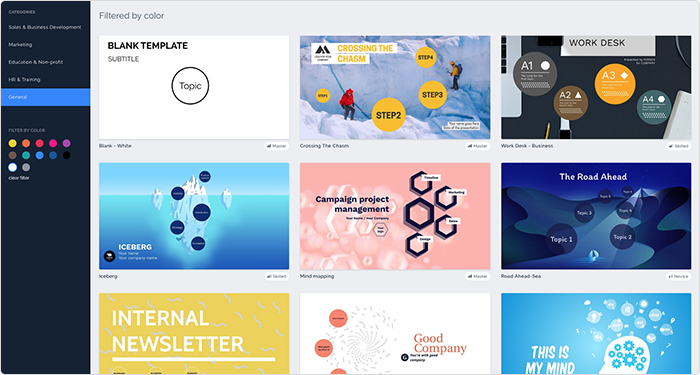 Prezi is a web-based tool for creating presentations (called prezis for short). It's similar to Microsoft PowerPoint but has some unique features. For example, you can add 3D backgrounds and import PDF files into your prezis.
Cost: The Standard plan for personal use starts from $3/month.
Graphics and infographics tools
Visual content is an easy way to enhance eLearning. If you want to spend less time creating graphics or don't have enough skills to work with complex photo editors like Photoshop, use simple tools that make great visuals without needing any design expertise at all. The nice thing here is that most of them are free.
11. Canva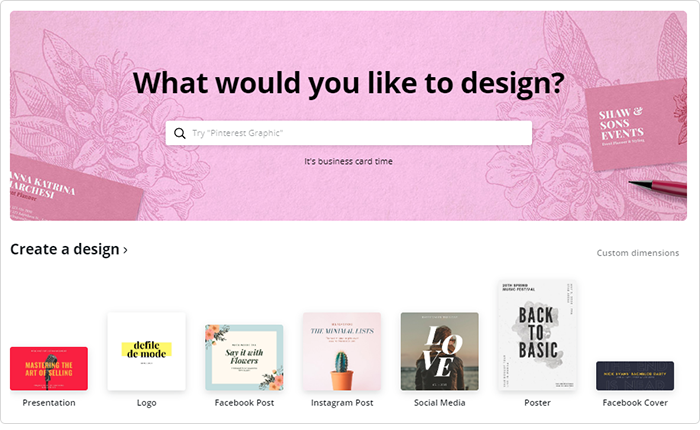 Canva is a graphic-design tool website. It uses a drag-and-drop format and provides access to over a million photos, graphics, and fonts. The service allows you to create a variety of content types, from social media images to presentations, invitations, and marketing materials.
Cost: Free.
12. Paint.net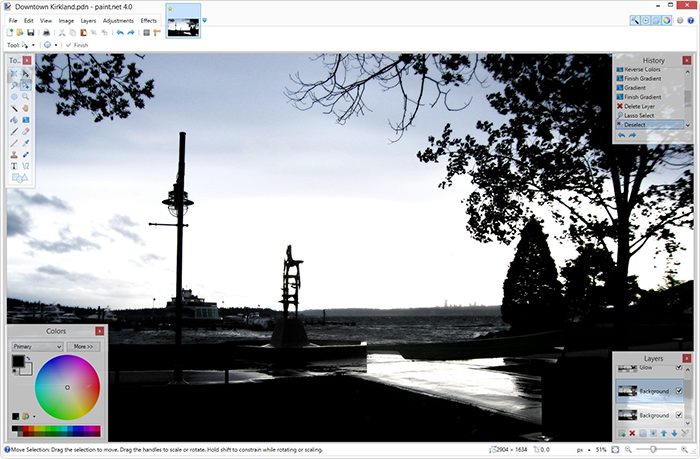 Paint.NET is free image and photo editing software for Microsoft Windows. It has an intuitive user interface and a minimum set of features needed for an instructional designer. Paint.NET includes simple tools for drawing shapes, the Gradient tool, the Magic Wand, a lot of special effects, support for layers, and much more.
Cost: Free.
13. Figma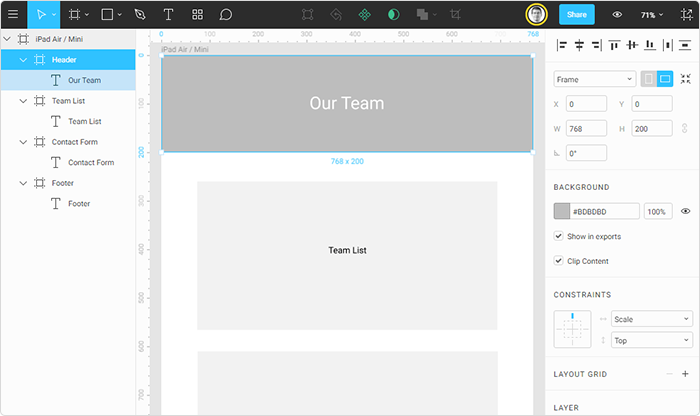 Figma is cloud-based design software used by instructional designers. It gives you all the tools you need for the design phase of a project, including vector tools, prototyping capabilities, and code generation. The nice part is that you can share designs with your customers without them needing to download any software to view or edit. Figma is a great solution for advanced instructional designers.
Cost: The Starter pricing plan for individuals is free.
14. Vectornator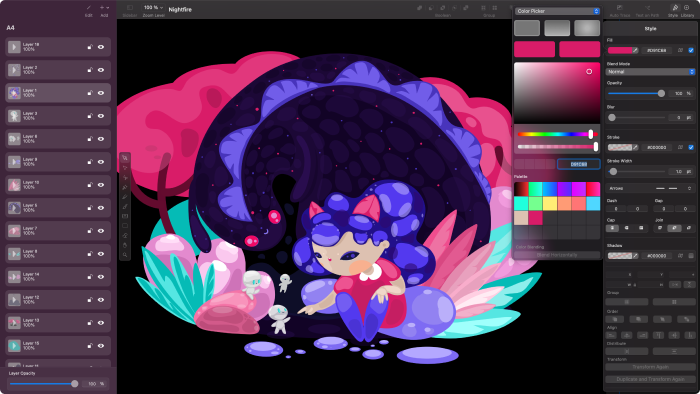 Vectornator is a graphic design and illustration app for iOS and macOS devices. Use it to create layout mockups, prototypes, branding elements, vector graphics, and custom typography. Its intuitive interface is designed to be used by novices and experienced designers alike: gesture controls and a text-editing tool make design faster and easier. Achieve beautiful results with Vectornator's numerous integrations, export/import options, social media templates, and drag-and-drop functionality.
Cost: Free
15. Infogram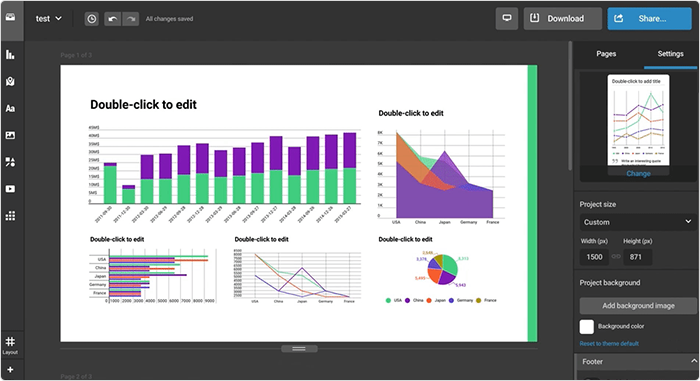 Infogram is an easy-to-use visualization and infographics platform. It has options for creating and sharing beautiful infographics, online reports, digital charts, interactive maps, dashboards, and social media visuals. Infogram has an intuitive drag-and-drop editor that converts users' data into infographics that can be published, embedded, or shared.
Cost: The Basic plan for personal use is free.
16. Imgflip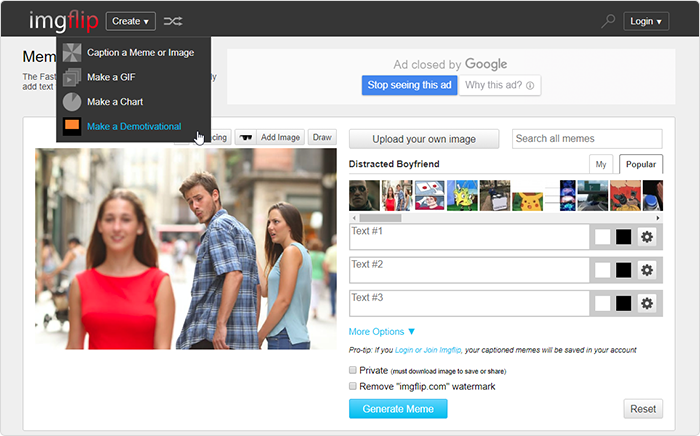 Imgflip helps to make static visual design come alive with movement and humor. It's an easy-to-use tool that lets you create your own GIF images relating to your eLearning content. You can make animated GIFs from video files, Youtube, and pictures.
Cost: Free.
17. Photocopa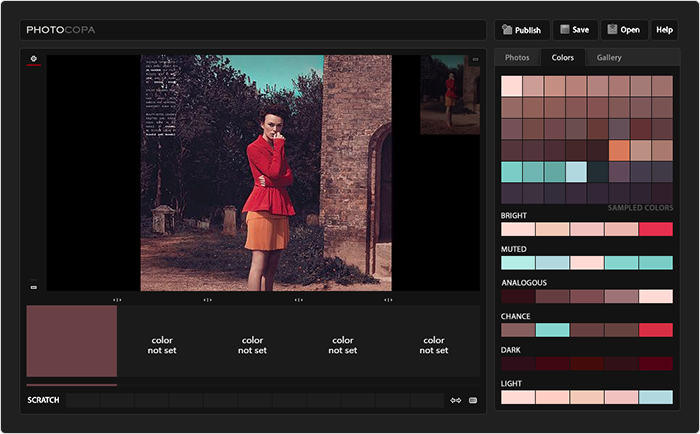 Often a photo or set of photos comprises a theme for an eLearning course, and it's important to find colors that complement that imagery. You can do this with Photocopa, which creates a palette based on your photos.
Cost: Free.
18. Comic Life 3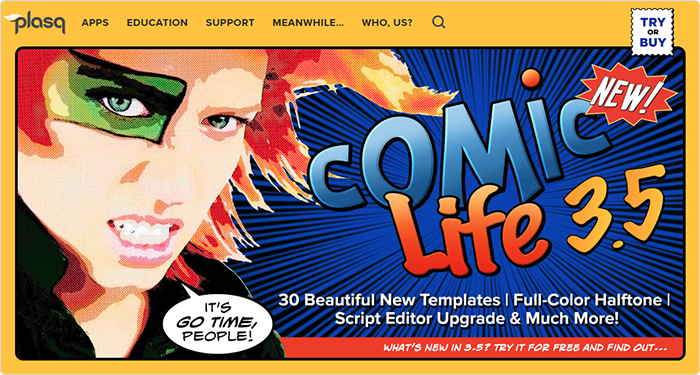 Comic Life 3 is an app for progressive instructional designers who are ready to build eLearning courses in the form of comics. The tool has everything for making stunning comics: fonts, templates, panels, balloons, captions, and lettering art.
Cost: $29.99 (lifetime license).
Video tools
Training videos are much more engaging than manuals and even simple slides. With the video creation software listed here, you can record screencasts, talking head videos, and presentations with a voice recording explaining the content.
19. Free Cam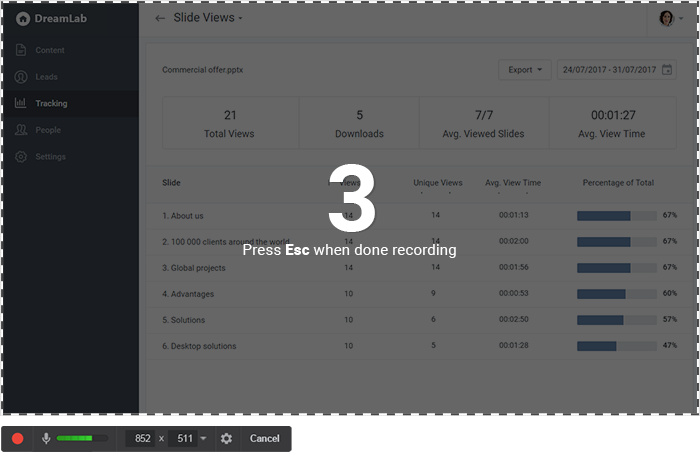 Free Cam is a simple screen recorder for Windows. It provides a full set of features for creating professional video lessons such as selecting a recording area, recording a voice over and system sounds, and highlighting the mouse cursor. You can save screencasts on your desktop or share them on YouTube.
Cost: Free.
20. iSpring Cam Pro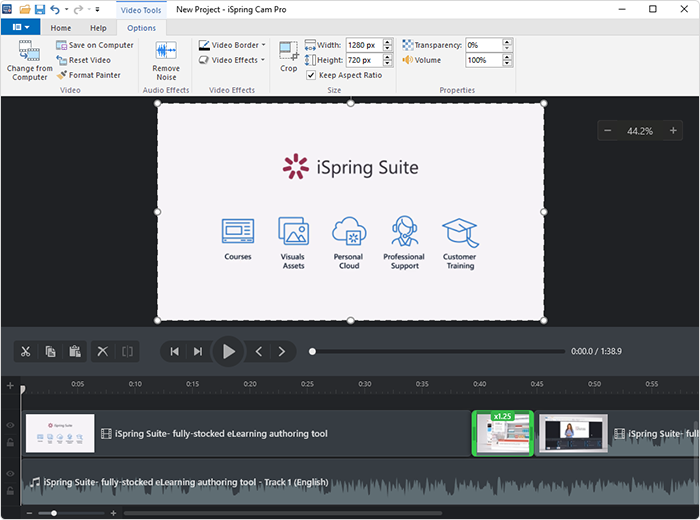 iSpring Cam Pro is an advanced video studio for creating video training. With this tool, you can record professional-looking video courses, how-to videos, and software tutorials. While making video lessons, you may need to add titles, annotate, do voice overs, create a freeze frame, and more. iSpring Cam Pro will help you do all that in the quickest and easiest way possible.
Cost: $227 (annual subscription). Free 14-day trial.
Audio tools and samples
Introducing audio into training is a great way to engage learners and keep them involved in the process. We've compiled a few tools that will help you create first-rate audios for your eLearning courses. And as a bonus, we will review a service where you can find free music tracks.
21. Audacity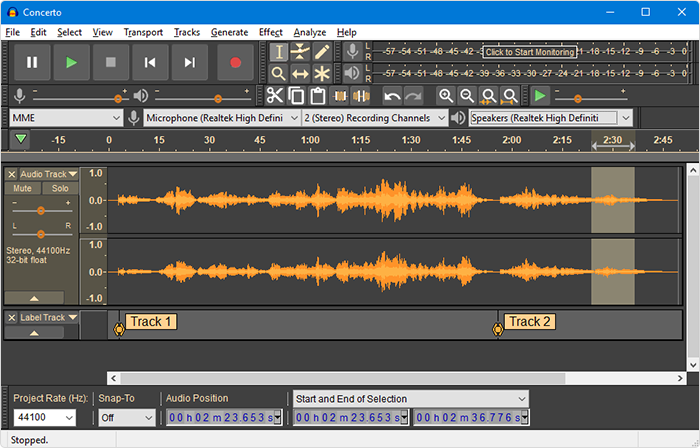 Audacity is free cross-platform software for recording and editing audio. With this tool, you can record live audio, cut, copy, or mix sounds together, change the speed or pitch of a recording, and much more.
Cost: Free.
22. Watson Text to Speech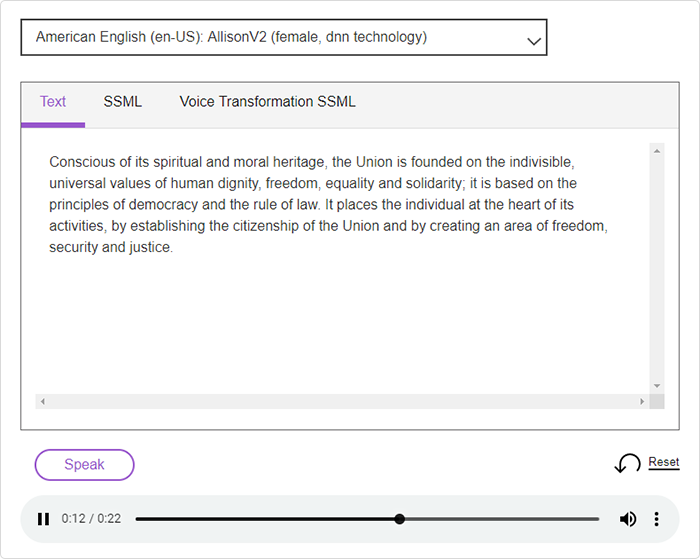 Watson Text to Speech automatically converts written text into natural-sounding audio. This service is a great solution for instructional designers who don't want to voice over courses themselves or hire a professional voice actor. It's available in 13 voices across 7 languages.
Cost: You can convert 10,000 characters per month for free.
23. BBC Sound Effects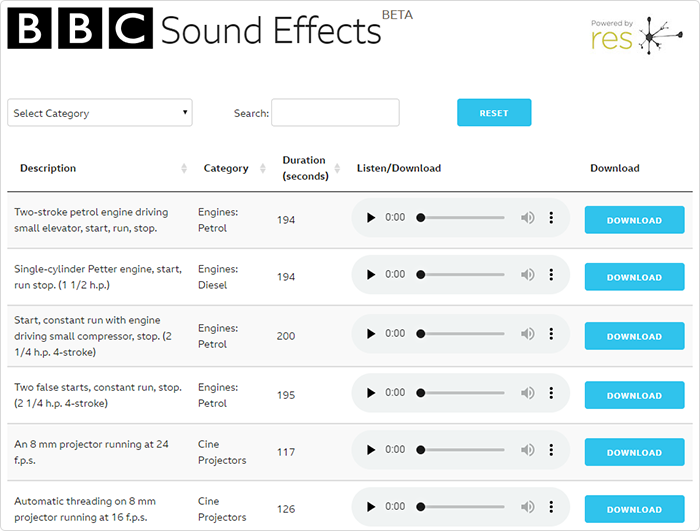 BBC Sound Effects is a library of 16,000 audio samples, which can be streamed or downloaded in WAV format and may be used for personal, educational, or research purposes. Sounds include people walking, a cash register, crowds cheering, a car engine, and much more.
Cost: Free.
Alternative services: Synthopia, SampleSwap, SampleFocus, FreeSound
Interactive learning tools
Game-based learning offers a lot of advantages. This is a motivational, challenging, and fun experience that can hold learners' attention longer and increase knowledge retention. We've collected a list of interactive learning tools which will help you make your training even more effective.
24. Kahoot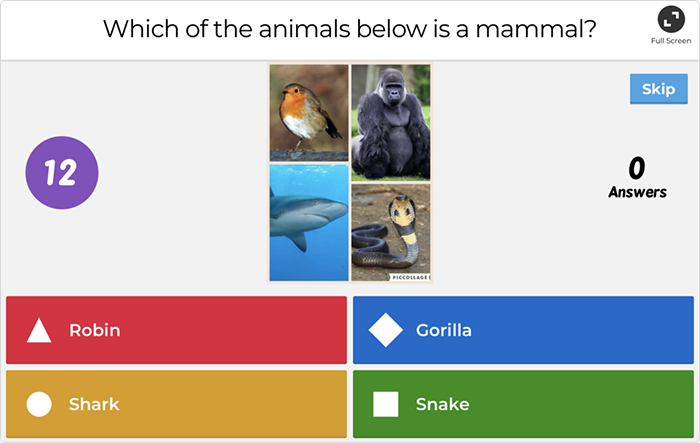 Kahoot is a game-based learning platform. It lets you create fun learning games (called kahoots) in minutes. You can make quizzes on any subject in any language. The format is up to you. For example, you can add videos, images, and diagrams to your questions.
Cost: From €7.20 per user/month
25. QuizGame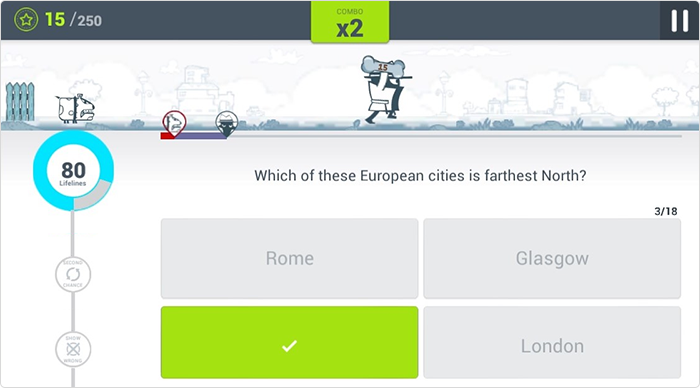 QuizGame is another instructional design software tool for gamifying training. It offers a few games like Prison break, Do or die, or the Big escape, which can excite learners, create a competitive environment and manage the learning process in a fun manner.
Cost: Upon request.
26. WIREWAX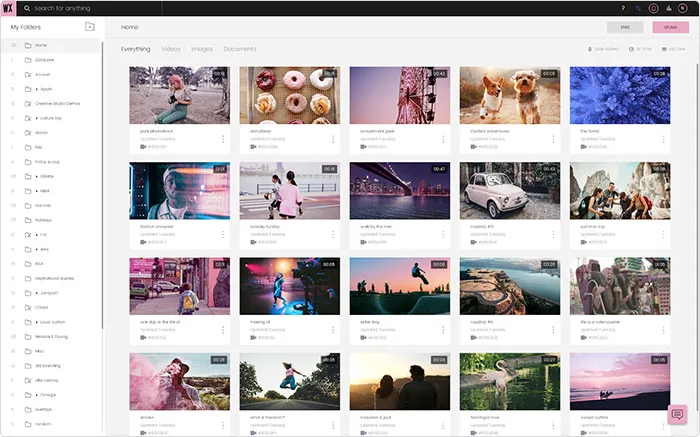 WIREWAX is a browser-based editor that allows you to transform any video into an interactive experience by easily adding hotspots. Videos play on mobile, tablet, and desktop.
Cost: Upon request.
27. Vyond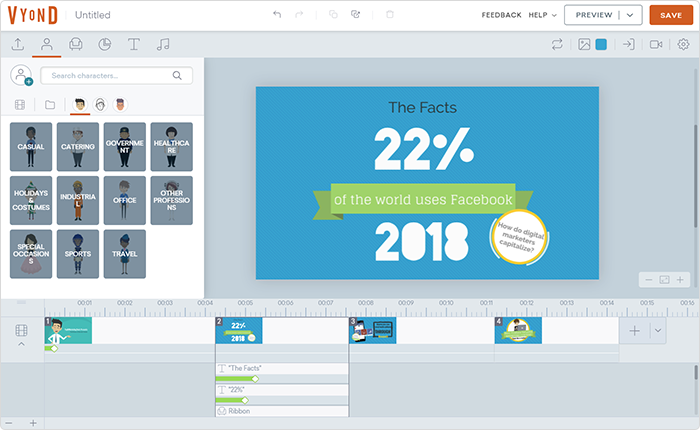 Vyond lets you create animated video courses. It has a big library of templates, sounds, props, and much more, so you can make your content unique to every situation. To speed up learners' immersion in the courses, you can use dialogue, lip-sync, and realistic movements.
Cost: From $299/year.
Survey tools
Survey tools are crucial for user research before and after course creation. The pre-training survey can help define the learning goals and understand learners' expectations. The post-training survey is a final step that will help you identify which activities learners enjoyed most, what they struggled with, and how much they learned. If you have an authoring tool, you can create surveys right in your course builder. If not, you may use one of the following tools:
28. Surveymonkey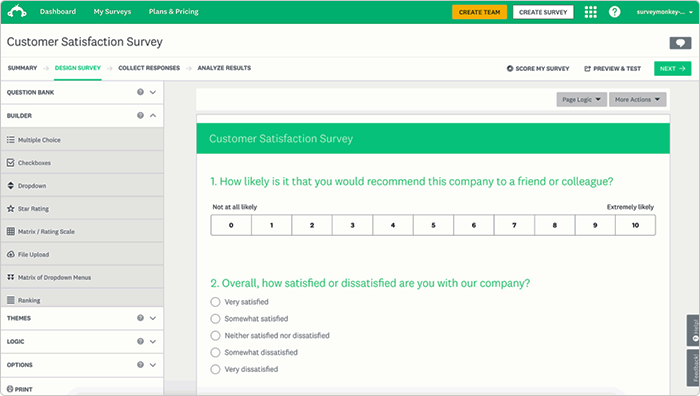 SurveyMonkey is online cloud-based instructional design software that allows you to launch different kinds of questionnaires. You can use standard templates or create customized surveys, send them to your learners, and monitor the results in real time.
Cost: The Basic plan is free. The Standard Monthly plan costs $99 a month.
29. CrowdSignal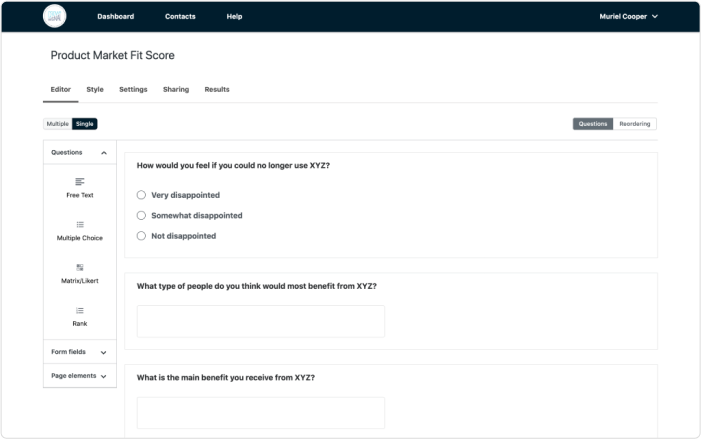 CrowdSignal is a simple tool for creating customizable, interactive surveys. You can prevent double voting and spam, analyze data in real time, export results in Excel, PDF, CSV, Google Docs, or XML formats, and much more.
Alternative Tools: Google Surveys, Typeform, Zoho Survey, Survey Planet
PDF & Flipping Book Tools
PDF documents are not always designed to be compatible with screen readers. It's a good decision to turn them into a page-turn experience. PDFs will automatically adapt to screen size and orientation, and it's easy to read them on tablets and smartphones.
30. iSpring Flip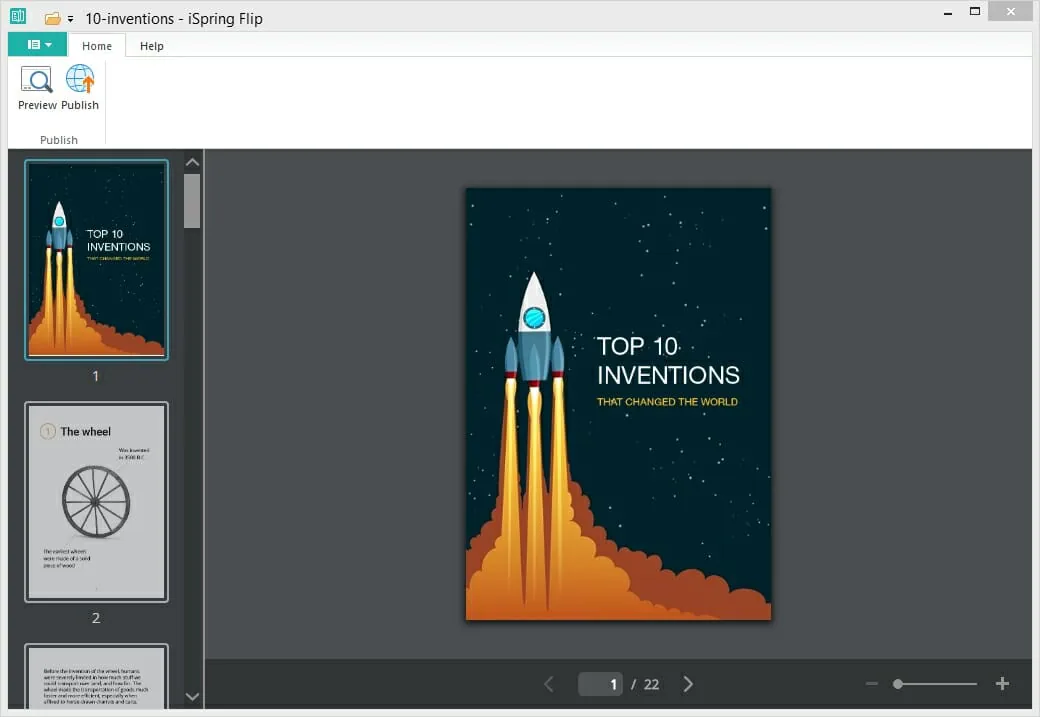 With iSpring Flip, you can quickly turn PowerPoint, PDF, and Word documents into attractive e-books with a realistic pageflip effect. After conversion, all fonts, images, links, references, and navigation elements are preserved.
Cost: $227 (annual subscription).
Alternative Tools: See our article about the top 5 flipbook software programs.
31. SmallPDF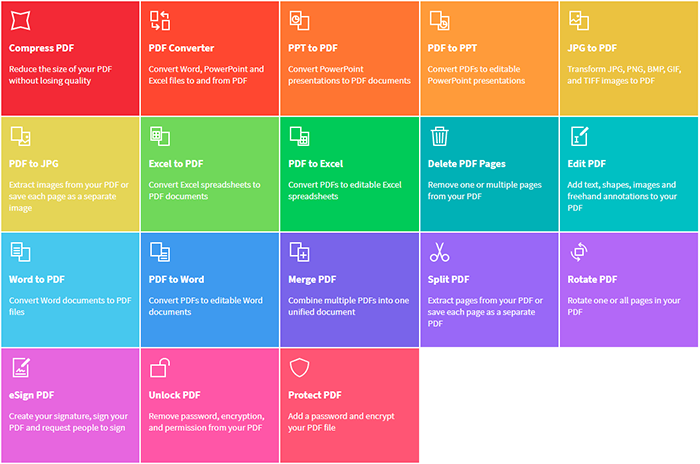 SmallPDF is a platform for converting and editing PDF files online. You can convert Word, PPT, and Excel files to and from PDF, compress, remove pages, add text, shapes, images, and annotations, extract images, and more.
Cost: $7/month per user (team plan), $9/month (individual plan).
Writing Tools
An eLearning course is not just about design and interactivity. High-quality content is based on some story that helps to create an immersive learning experience. So text is another important part of a course which hasn't lost its shine amidst graphics and media. We've collected a list of several useful tools which can help instructional designers write texts and make them better.
32. Grammarly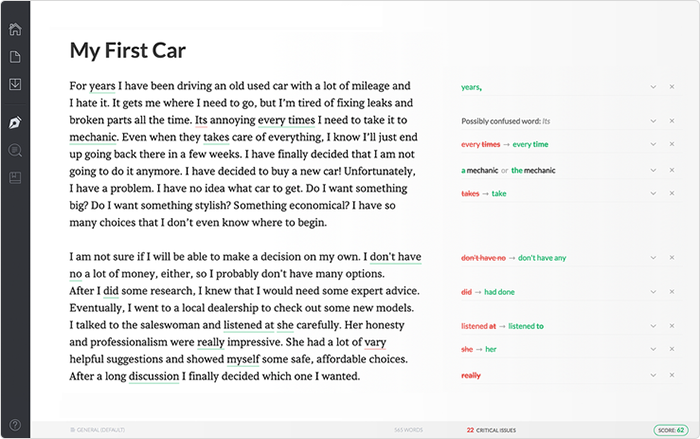 Grammarly is an online platform that will help you make your writing clear and mistake-free. It automatically detects grammar, spelling, punctuation, and style mistakes. It's available via a browser extension for Chrome, Safari, Firefox, and Edge.
Cost: Critical grammar and spelling checks are available in the free account.
33. Hemingway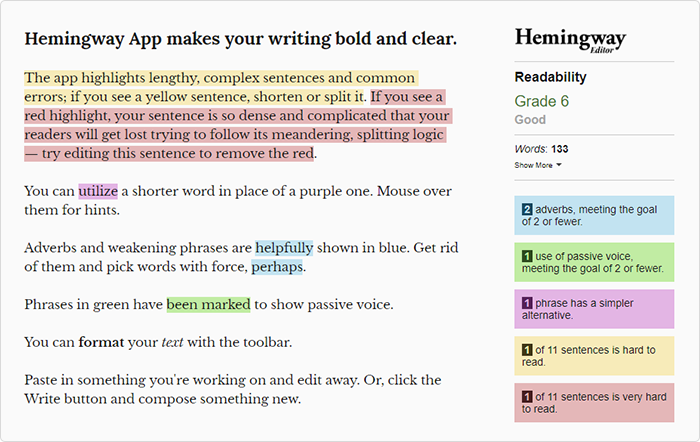 Hemingway is an online editing tool for making writing bold and clear. It checks the text for readability and helps you find complex sentences and phrases, excessive adverbs, and passive voice constructions that you can turn into active voice.
Cost: Free.
34. Google Docs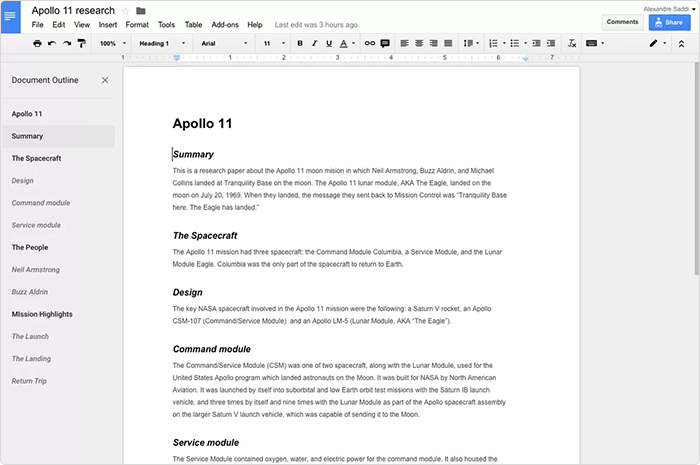 Google Docs, Google Sheets, Google Slides, and Google Forms are a part of an office suite. It has smart editing and styling tools to help you easily format text and paragraphs. You can choose from hundreds of fonts, add links and images, and more.
Cost: Free.
Project management tools
Whether you're an independent instructional designer or part of a large team, you're likely to need some tools which will help you be more organized and productive. We've made the task easier and by drawing up a short list of such tools. Check out what's special about them, and find a solution that meets your requirements.
35. Trello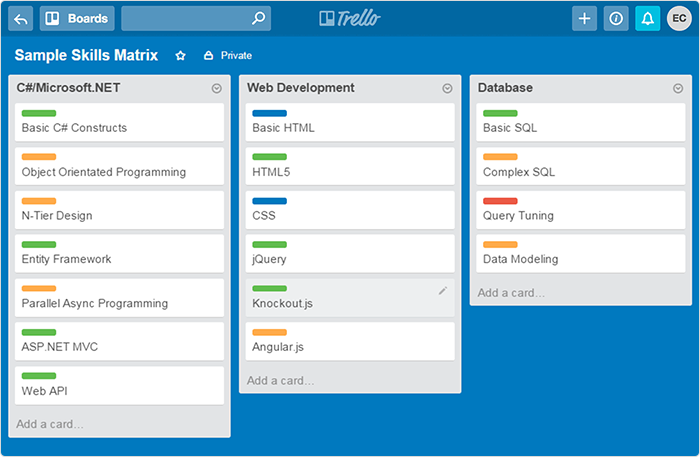 Trello is known for visualizing project tasks. It includes boards, lists, and cards that help you organize your project and track all its aspects in a quick visual way. The tool seamlessly syncs between devices, so you can use it wherever you go.
Cost: Free for personal use.
36. Google Calendar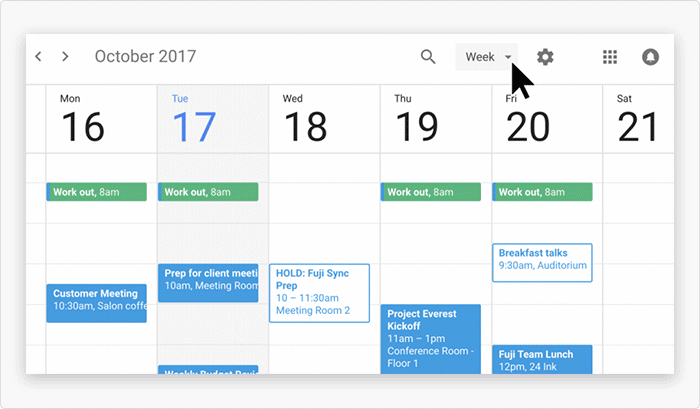 Google Calendar is a time-management and scheduling calendar service. It allows you to easily keep track of your daily schedule by creating tasks, reminders, and events. You can share your calendars with others and even create team calendars.
Cost: Free.
37. Tomato Timer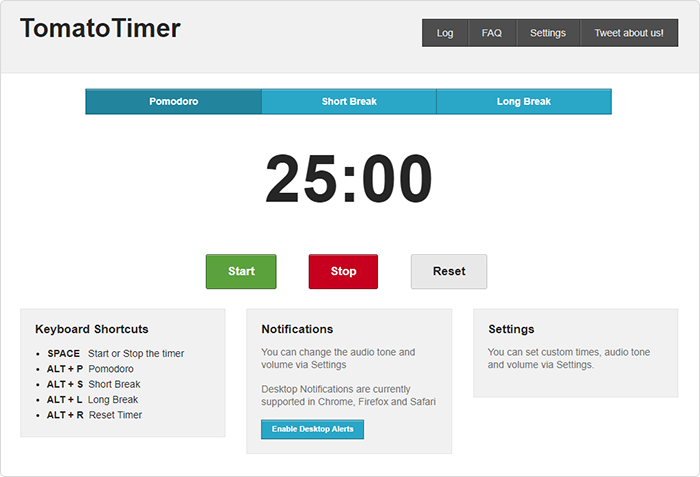 Tomato Timer is an online Pomodoro Technique timer. The Pomodoro Technique uses a timer to break down work into 25-minute intervals (pomodori), separated by short breaks. It's based on the idea that frequent breaks improve mental agility. Tomato Timer lets you set custom times, audio tone, and volume.
Cost: Free.
Tools for communication and sharing
Some instructional designers work remotely, as well as asynchronously or in different timezones with their customers. The designer and customer should always keep in touch so projects don't go off the rails. You can easily do that by using the following communication tools:
38. Skype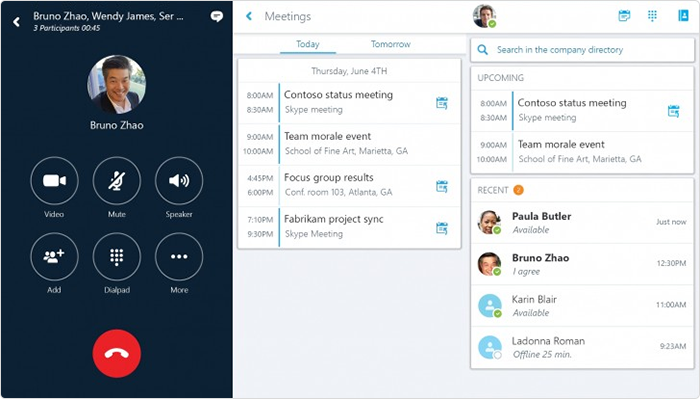 Skype allows audio and video calls and messaging between multiple devices. You can also easily share presentations or anything on your screen during a call, record Skype calls, and use live subtitles to read the words that are spoken.
Cost: Essential features are free.
39. Slack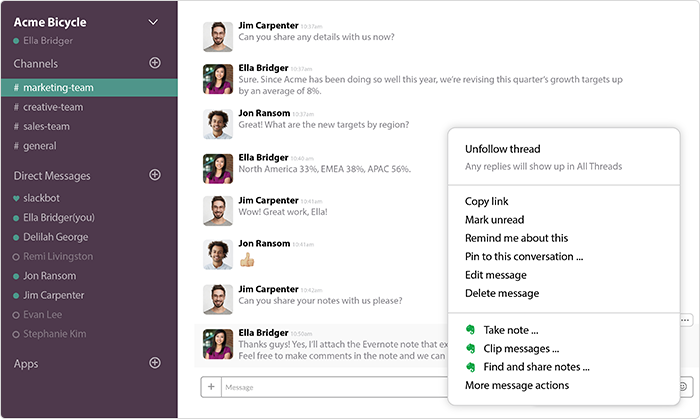 Slack is a collaboration tool used by remote teams. It supports direct messaging and group messaging, as well as audio and video conferencing. One of its outstanding features is an advanced search engine. You can search everything within the message threads and documents to quickly find the information you're looking for.
Cost: Free for small teams. Paid plans start from $6.67/month.
40. GoToMeeting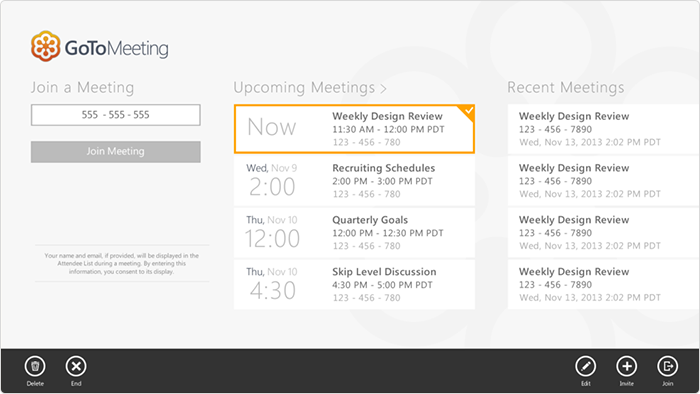 GoToMeeting has everything to host a web meeting well. You can launch a meeting from anywhere, on any device. It also has some other features such as the ability to hand over control of your computer and one-click recording.
Cost: Pricing plans start from $12/month.
41. Google Drive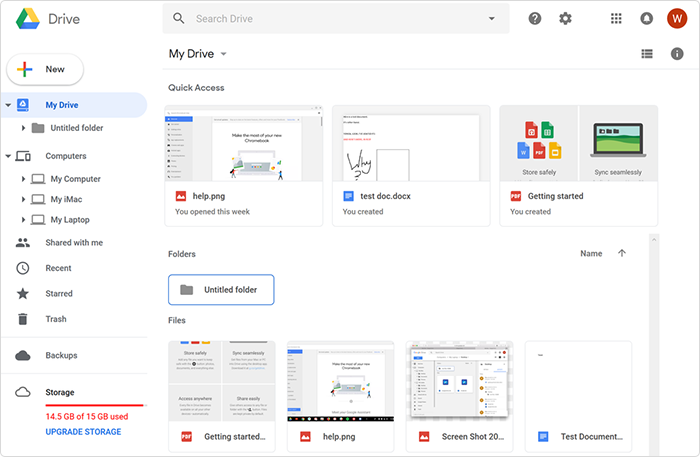 Google Drive is a safe place for storing files and putting them within reach from any device. It allows users to store files on Google servers, synchronize files across smartphones and computers, and share documents. You can easily invite others to view, edit, or leave comments on any of your files or folders.
Cost: The first 15 GB of storage is free with a Google account.
Best Instructional Design Resources
In addition to instructional design software tools, you're likely to need resources such as templates, images, and articles on eLearning. Fortunately, we've collected the best resources for instructional design. Check them out!
eLearning templates
Creating a unique course from scratch takes a lot of time. To quickly develop interactive and engaging online courses, you can use ready-made eLearning templates. If you're looking for quality ones, check out the following resources:
42. eLearning Brothers Asset Library
eLearning Brothers Asset Library is perhaps the biggest name in the industry when it comes to templates. It has a large and constantly evolving library of 1,500+ eLearning templates including interactions, games, scenarios, quizzes, and layouts. There are also thousands of cutout characters, PowerPoint graphics, stock images, and more.
Cost: $1,299 (annual subscription).
43. Faster Course
Faster Course has an attractive library of templates with a primary focus on Adobe Captivate, Articulate, and Lectora. You just need to download a template, copy and paste in your texts, images, and videos, and publish your e-course.
Cost: $349 per year.
44. Rapid eLearning Templates
Rapid eLearning Templates offers full-featured templates for Articulate Storyline and Adobe Captivate. It has a few free downloads as well as a collection of premium templates. You can also order a custom template on this website.
Cost: The price for premium templates starts from $30.
45. eLearning.net
eLearning.net produces high-quality free eLearning templates, graphics, and related services. You can download templates at zero cost, but so far they're not numerous. The site also offers free sets of illustrated characters.
Cost: Free.
Image and photo sharing platforms
If you don't want to create graphics on your own, you can take ready-made pictures from photo sharing platforms. There's a vast variety of high-quality beautiful images, vector graphics, and art illustrations there, which will help you make your eLearning content more engaging.
46. Unsplash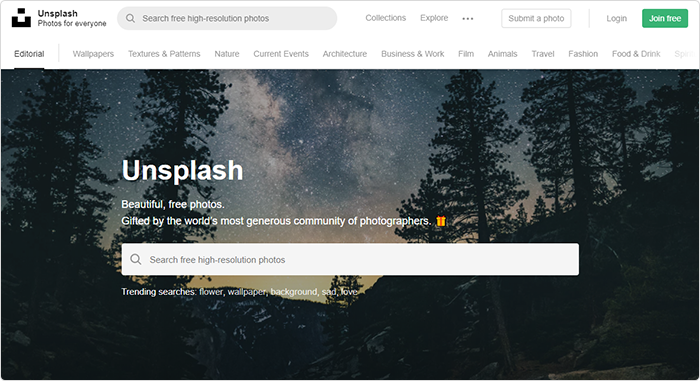 Unsplash gives you access to thousands of free stock photos with a Creative Commons Zero license. That means you can use the images and edit them for free, without asking permission from the photographer or website.
Cost: Free.
Alternative services: Pexels, Storyblocks, FreeImages.uk
47. Microsoft Clipart Library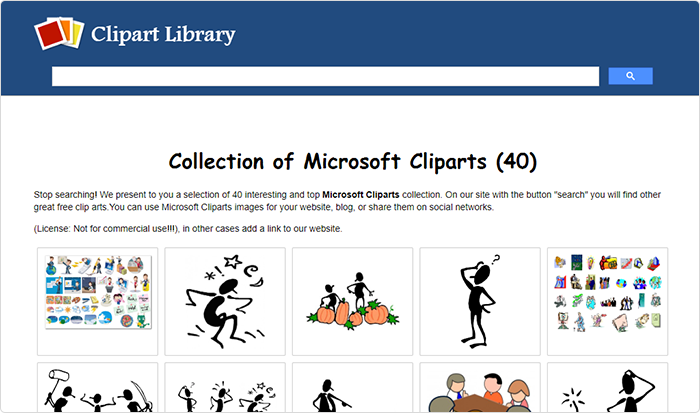 Microsoft Clipart Library presents to you a selection of 40 Microsoft Cliparts. You can choose any clip arts that suit your eLearning courses.
Cost: Free.
48. Flaticon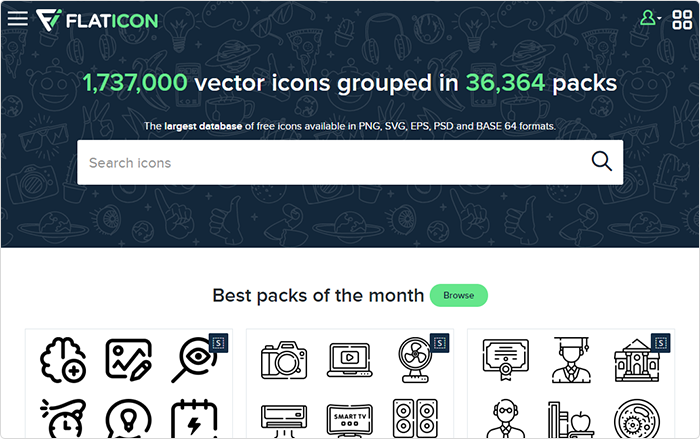 Flaticon is the largest resource of free icons available in PNG, SVG, EPS, PSD, and BASE 64 formats. It includes 1,649,000 vector icons. You can edit their size, position and colors.
Cost: Free. Pricing plans for premium icons and stickers start at $7.50/month (billed annually).
Alternative services: The Noun Project, Font Awesome, IconPharm
49. Google Fonts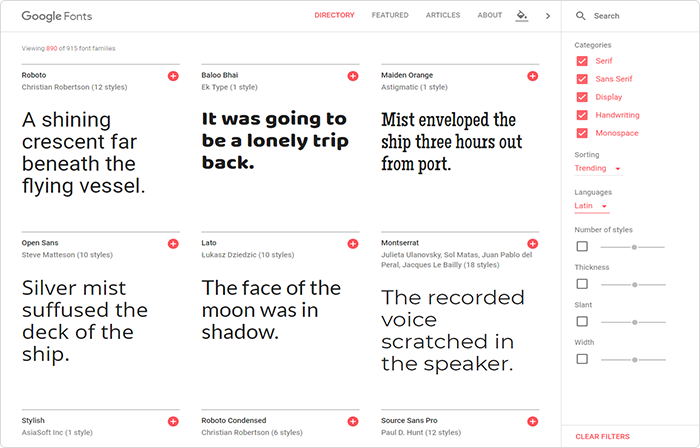 Google Fonts is a library of 915 libre licensed fonts. All fonts are released under open source licenses, so they're allowed for both personal and commercial use.
Cost: Free.
Alternative tools: Freebiesbug, 1001 Free Fonts, DaFont, Font Bundles
Inspirational and educational eLearning resources
Inspiration and new knowledge are the essentials of success in any profession. And the field of instructional design is no exception. Here are the three best eLearning resources to give you great insights, tips, and trends in instructional design:
50. eLearning Industry
eLearning Industry is a comprehensive blog about digital learning and instructional design. It offers a lot of interesting and thought-provoking articles on eLearning trends, strategies, and software used by instructional designers, free eBooks, and webinars.
Cost: Free.
51. The eLearning Guild
The eLearning Guild is another website where digital learning professionals can share their knowledge, expertise, and ideas to build better training experiences. The Guild hosts several conferences, including DevLearn, Learning Solutions, and Realities360.
Cost: Free.
52. CommLab India
CommLab India is a global leader for rapid eLearning solutions. It offers a lot of useful instructional design specific tips, tricks, and advice.
Cost: Free.
To Sum Up
Well, now you know about lots of different instructional design software tools and resources. All of them together will get you creating eLearning courses faster and make them more beautiful and engaging. Good luck!